Up Country Enclosures Islamabad
Up Country Enclosures Islamabad is the most attractive and ecologically green living housing society. The chief drive of this Project is to deliver the idea of an exceptional housing community where their visions come true to shape their own house with modest amenities. Their usual expansions are in development.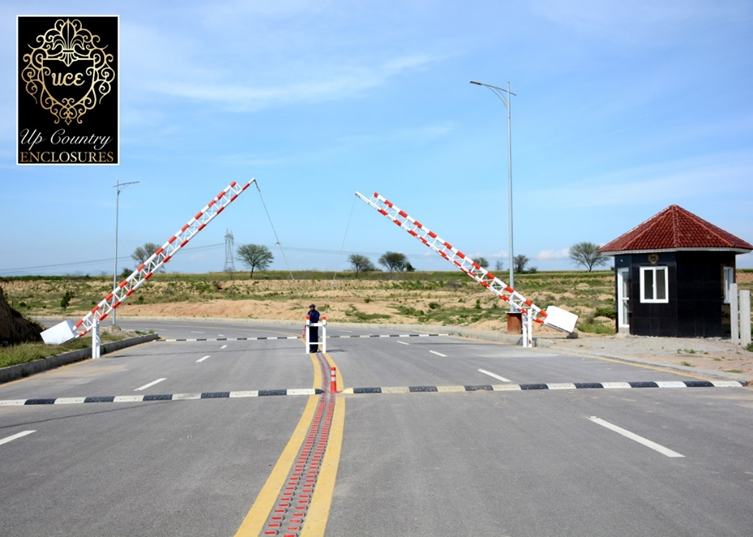 N.O.C Certification of Upcountry
The Rawalpindi Development Authority (R.D.A.) and other concerned authorities supported the Project. The list of certifications received by the upcountry are as follows :
| | |
| --- | --- |
| Planning Permission by R.D.A. | RDA/MP&TE/F-PHS-17/94 |
| Submission of Planning Fee to R.D.A. | 4546 |
| Land Use Conversion Fee to R.D. A | 4547 |
| Sanctioning of Scheme Fee to R.D.A. | 4546 |
| Approval Letter by R.D.A. | RDA/MP&TE/F-PHS-116/136 |
| Approved Layout Plan | RDA/MP&TE/PHS/F-116/Layout Plan/08 |
| Balance Conversion Fee to R.D.A. | 6924 |
| JS HQ Strategic Plans Division | 920/22/C/2009/O&P/OS |
| Military Intelligence Directorate | 185-A/S&AI Coy (MI-6)/KCNA/18 |
| Inter Service Intelligence | 6002/NA/Up-Country/93(C-1) |
| Ministry of Defence | 6/30/Misc/D-28/2008 |
| MOU b/w IESCO & Up Country | 2083-87/CEO/IESCO/CE(P&E)/HS-310 |
| Environment Protection Department | DD(EIA)EPA/F-403(IEE)/2709/2013/1227 |
| Civil Aviation Authority | HQCAA/1117/005/ARAS(P/C)/1006 |
| Air Head Quarter | A.H.Q./1532/2/ATS(PC-125/13) |
| Transfer Deed (Roads, Parks & Open Spaces) | Deed No. 9650, Book No. 1, Vol. No. 2419, Page No. 25, Additional Book No. 1, Vol. No. 5357, Butts No. 238 to 244 |
| WASA (R.D.A.) | DD(WS)/1958-A/048/WEST |
| Mortgage Deed in favor of R.D.A. | Agreement No. 16230 |
| Approval of infrastructure design of Scheme by R.D.A. | RDA/MP&TE/F-PHS-116/65 |
| Agreement with NayaTel Fiber Optic Pvt. Ltd. | 766848 |
| Approval of Sui Northern Gas Pipeline Ltd. | SGMON/UCE/TOR/RLNG |
Developers and Owners of Up-Country Enclosures:
Up Country Enclosure is developed by the Nanovators Developers and Up Closure Pvt. Ltd. Nanovators created its real estate extension to determine analytically reinforced customs to explore the real estate market. Through their wide-ranging familiarity with the business, a system of properties, and years of proficiency. The owners and the management are dedicated to guaranteeing the development of the maximum value infrastructure.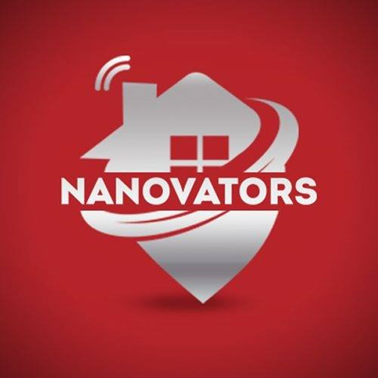 Earlier, the developers had launched a one-of-a-kind project in Bani Gala named Foreign Office Employees Cooperative Housing Society (FOECHS). This Project was an apparent success in that Project was made possible devotion and pledge of the developers. FOECHS is located near C.D.A. Sector I-16. Investors are pretty pleased with their developments.
Location of Upcountry
The Project is near the C.B.R. housing society and Foreign Office Employees Cooperative Housing Society (FOECHS). It is directly reachable from Girja Road. The Up-Country Enclosure is easily accessible in the following ways:
A nine-minute drive away from M-2 Motorway.
A ten-minute drive away from Airport Avenue.
A fifteen-minute drive away from Srinagar Highway
A ten-minute drive away from Thalian Interchange.
A 12-minute drive away from New Islamabad International Airport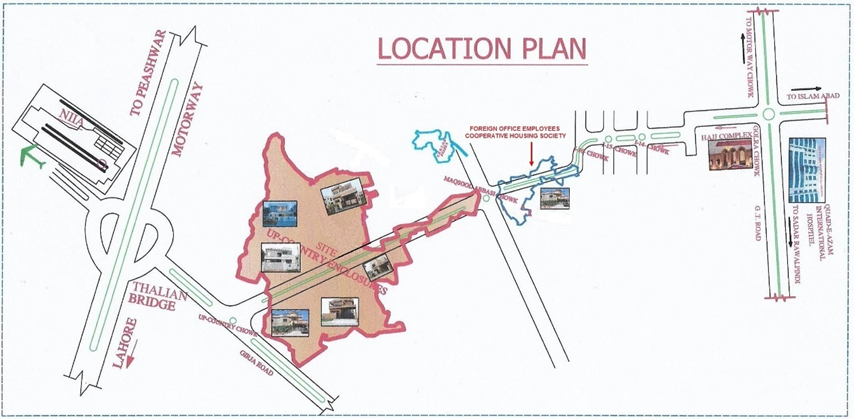 Nearby Landmarks of Up-Country Enclosure:
Up Country Enclosure is surrounded by more than a few close landmarks and places. Some of the important landmarks are:
Marble Arch Enclave
Silver City Islamabad
C.B.R. housing society
Blue World City
Capital Smart City
Nova City Islamabad
Rudn Enclave Islamabad
Up Country Enclosures Master Plan:
The master plan of the Up-Country Enclosures is planned by a team of exceedingly competent specialists with ages of knowledge in real estate scheming and planning. Society is presenting a variety of residential plots for investment, including:
5 Marla
7 Marla
10 Marla
1 Kanal
Society includes several Blocks as follows:
Up Country Enclosures Downtown Block
Up Country Enclosures Block A
Up Country Enclosures Block B
Up Country Enclosures Block C
Up Country Enclosures Block D
Up Country Enclosures Block E
Up Country Enclosures Block F
Up Country Enclosures Block G
Up Country Enclosures Block H
Amenities and Facilities
It is impossible to survive in any facility that lacks the basic facilities and amenities that are important for survival. The facilities provided by Upcountry are:
24/7 CCTV Security
Essential Necessities water, Gas, and Electricity
Healthcare facilities
Petrol pumps
Police Station
Post Office
Provision of optic fiber
Schools
Secured Gated Community
Street lights
Waste management system
Wide road network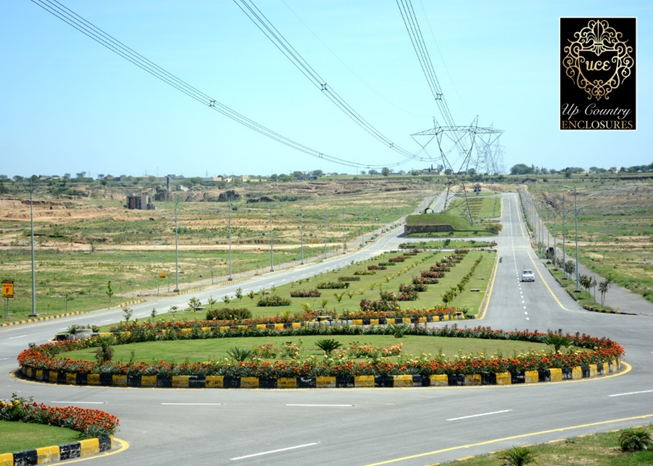 Downtown Block
Lately, Up Country Enclosures founded a new elegant Downtown Block close to the Thalian interchange. Downtown Block presents fixed residential plots at an attractive price on a first-come, first-served ground. Downtown Block only delivers 4 Marla residential plots in an effortless installment plan of 2 years. It is, nonetheless, another fair investment opportunity in the twin cities. The community has received support from 21 Government departments, and plots are already showing returns of up to 50,000 just after pitching.