B17 Multi Garden Islamabad
B-17 is a sector of Islamabad, Pakistan, developed by the Multi-Professional Cooperative Housing Society (MPCHS). Also known as B-17 Multi Gardens, it is a well-known housing society in Islamabad City. It is located at the foot of Margalla Hills. It is an exquisite society that provides its residents with beautiful sceneries and a peaceful environment.
B-17 Islamabad is an ideal investment opportunity in the surreal estate business scenarios in Islamabad due to its location and world-class development. The prices of society have increased by a significant amount, giving the people who had previously invested in the community an advantage.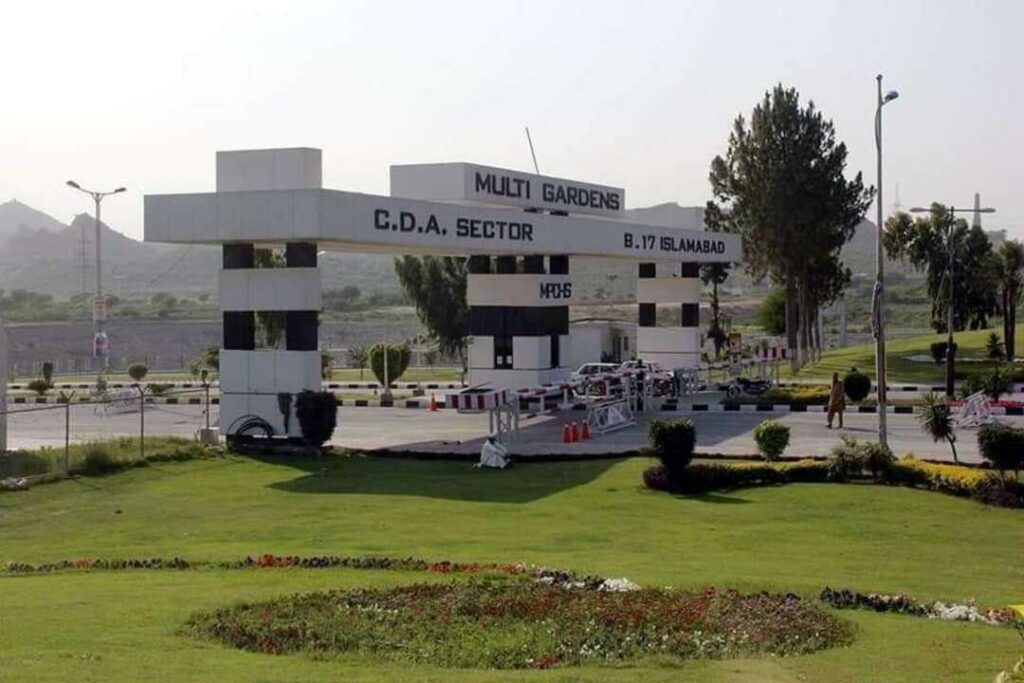 Location of B17 Multi Garden Islamabad
B-17 is a rapidly developing sector of Islamabad located in Zone 2 of Islamabad, with two entrances on the main GT Road and one planned entrance from M-1 Islamabad Peshawar Motorway through an approved interchange. The society lies adjacent to Min Hydral Plant Reservoir Islamabad and Abbasi town near the Sangjani Toll Plaza.
Total Land Area Covered
Multi Gardens Housing Scheme spans over 16000 Kanal of beautiful and eye-catching Landscape of Margalla Hills. Total land is further divided into different blocks.
Nearby Landmarks
There are many significant landmarks situated near B-17 Multi Gardens. Numerous residential and commercial developments are located nearby, besides education and transportation spots, because of their connectivity to major roads.
Nearby Housing Societies
The presence of leading housing societies near B-17 Multi Gardens is a significant reason for its location value.
Following are the housing projects near B-17 Islamabad:
Lies next to Faisal Margalla City
Approx 8 KM from Faisal Hills
Approx 10 KM from WAPDA Town
Approx 20 KM from PECHS Housing Society
Approx 14 KM from Shalimar Town
Approx 14.6 from Jammu Kashmir Housing Society
Approx 27 KM from University Town
Accessibility
Sangjani Toll Plaza at approximately 4.9 Kilometres
High-Tech University at about 6.1 Kilometres
Taxila Museum at about 7.9 Kilometres
Sector D-17 at about 7.9 Kilometres
Tarnol at about 11.2 Kilometres
Wah Cantt at about 13.2 Kilometres
Sector G-15 at approximately 14.5Kilometers
Golra Mor at about 17.4 Kilometres
Sector G-13 at 18 Kilometres and G-14 at 19 Kilometres
Sector I-14 at around 20 Kilometres
NUST University at about 24 Kilometres
New Islamabad International Airport at 31 Kilometres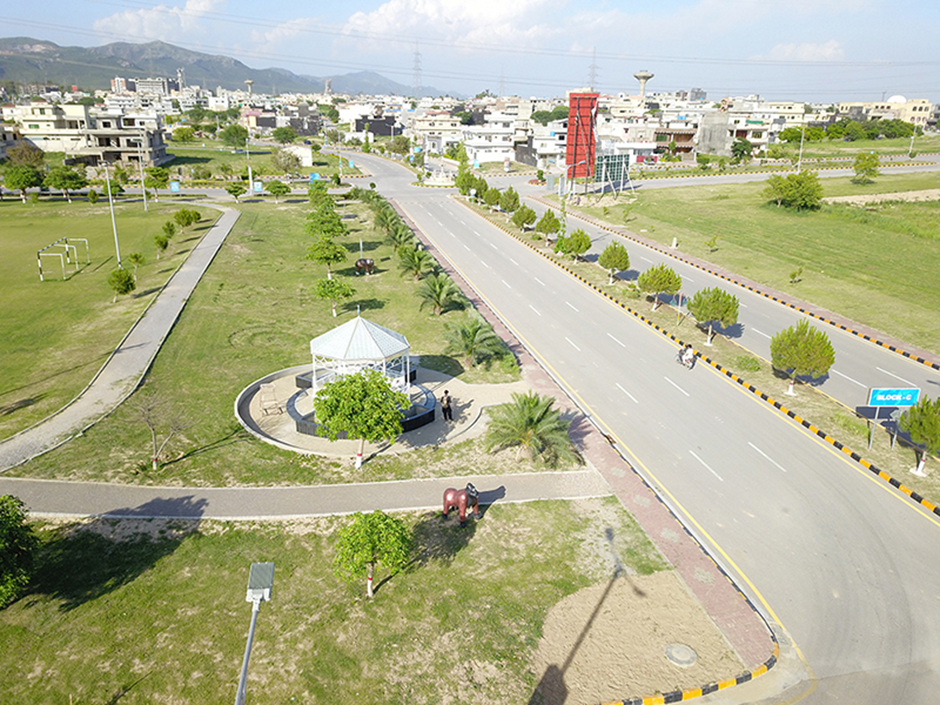 Access Points of B-17 Multi Gardens Islamabad
Currently, the society features two main entrance points and a future access point as follows:
Entry gates A and B are located on the main GT Road.
A future gate is planned for M-1 Islamabad-Peshawar Motorway after developing a dedicated Interchange. It is intended and approved by FWO and will be built soon.
Developers of B-17 Multi Gardens
B-17 Multi Gardens is being developed by MPCHS (Multi Professional Cooperative Housing Society).
The project was initially launched in 2004 and has been progressing. MPCHS has already delivered multiple successful projects in Islamabad in the past.
Past Projects of MPCHS are as follows:
Tele-Gardens F-17 Islamabad
Silver Oaks
Multi Residencia and Orchards Islamabad
Islamabad Gardens E-11/1 and E-11/2
MPCHS has displayed diverse experience and transparency in delivering the mentioned projects. Quality is the top-most priority that we are witnessing in B-17 Multi Gardens.
NOC and Approval
Multi Gardens was launched in 2004, but the society goes way back with the launch of its first housing project in E-11/3, named Islamabad Gardens, in 1989 and E-11/1 in 2001. ICHS Town was also launched around the same time frame as this project.
Approval of layout plans for the society is per specified rules and regulations of the Capital Development Authority (CDA).
Possession Status
Multi Gardens is a developed housing scheme where hundreds of houses, apartments, and commercials are already built, and families enjoy the amenities of MPCHS. All the residential blocks except the developing Block G have possessions available. At the same time, some part of D is currently non-developed due to the non-acquisition of land.
Features and Amenities
B-17 Multi Gardens offer all the amenities that collectively contribute to an ideal living experience. All facilities and amenities are provided here, including modern infrastructure and a secure environment. Society is perfect for family living as well as future investments.
Following are the amenities at B-17 Multi Gardens:
Modern and Innovative structure according to international standards.
Ideal location in the heart of the capital featuring access to many major roads and landmarks.
Wide Carpeted highways and streets.
Proper maintenance and disposal of wastes through an active sewage system.
Underground provision of basic amenities such as gas, water, and electricity.
Fool Proof and high alert security system with boundary walls on all sides and checked entry points.
The breathtaking landscape surrounding the society.
Clean drinking water through filtration plants.
Medical center for the wellness of the residents.
Hotels, commercial centers, and shopping malls.
Jogging tracks, filling stations, and educational institutes throughout society.
Mosques for religious practice.
Entertainment facilities
Open spaces, parks, and playgrounds for children.
Sports club featuring different indoor and outdoor sports.
Multi Gardens Lake with varying points of picnic and water activities.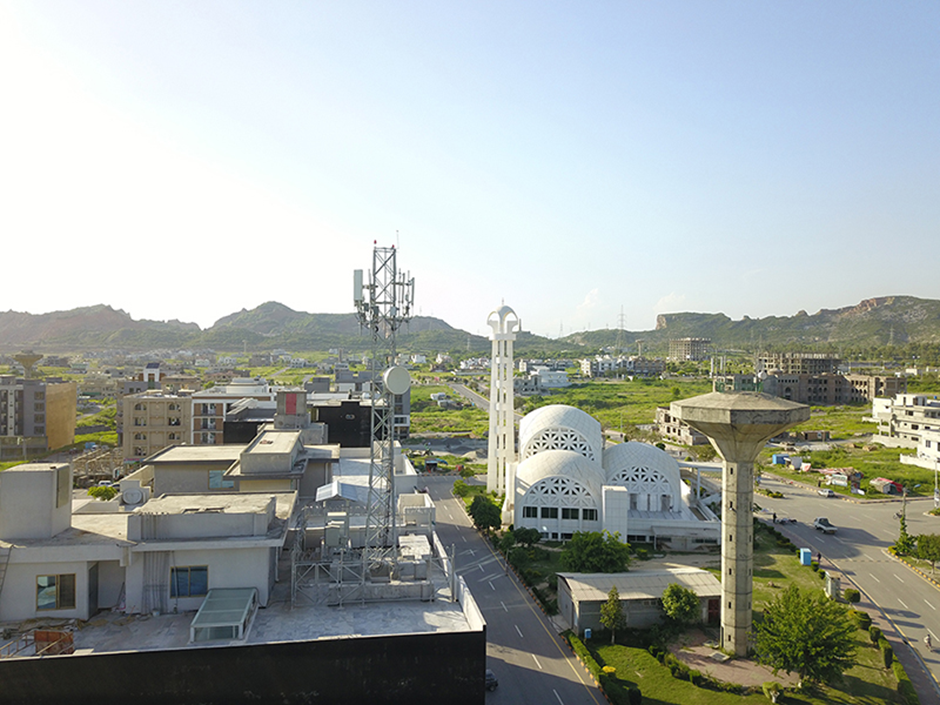 Development Status
Development work at B-17 Multi Gardens is progressing rapidly. Hundreds of families are already residing and enjoying society's world-class amenities.
The current development of B-17 Multi Gardens Islamabad is as follows:
Roads are carpeted and complete in all sectors.
The main entry gate is fully operational for two-way traffic.
Second Entry Gate name Mian Akhtar Avenue established between Block and B
Landscaping at the main gates and boulevard is completed.
Development work at all the blocks is complete. However, 40 percent area of Block E is non-possession-able.
Utilities are being provided on-demand in all leagues.
Horticulture work is continued in the blocks.
Two tube wells are already functional in society, and a few others are on their way to completion.
74 Kanal Community Club at Block B is under development.
Multiple Super Markets are developed in the various blocks for ease of residents.
Master Plan for Multi-Garden B-17 Islamabad
Multi Gardens Sector B-17 is almost 12,000 Kanal in size and is synonymous with luxury and high standards. It is a very well-planned community that satisfies all current development requirements. It is altering the landscape of the entire region. Within the context of society set up, this location has a symbolic quality and status with a multi-professional cooperative housing society.
Sector B-17's master plan is being developed following urban planning principles. Numerous renowned planners, engineers, and architects have been consulted regarding this massive development.
The area is not only residential but also offers excellent commercial opportunities. It's a fantastic project that dedicates significant space to green space. It is divided into seven blocks and complies with all current town planning standards. This place is truly remarkable due to the fusion of modernity and serenity. Residents of B-17 have access to a secure environment and all facilities. All roads and other public spaces are broad, and strategies are in place to address the threat of overpopulation.
Sectors according to CDA Layout Plan
Interestingly, Block A of sector B-17 is the A-17 sector of Islamabad. Besides, Block C of sector B-17 is officially the B-18 sector of Islamabad, and only block B is the B-17 sector as per the official layout plan of Islamabad. Similarly, Block D is "B18", but Block E and Block F exist in A19. However, as MPCHS developed all the blocks, it was designated B-17 with various unions.
B-17 Blocks the Division of Islamabad
It extends to a large area, which the developers have divided into distinct blocks as a marvelous project.
Sector A
Sector B
Sector C
Sector C- I
Sector D
Sector E
Sector F
Sector G
Sector B-17 Islamabad in its entirety offers you excellent investment and living opportunities. Each block contains a mix of commercial and residential plots of varying sizes. At the same time, advanced planning has been done in all the blocks. The infra with entrepreneurial minds and objectives can take advantage of the commercial sectors in almost every block. Now let's discuss each block one by one for the comprehensive clarity of our readers:
The development and other work are proceeding rapidly, with some blocks being completely developed to meet current demands. Each block is designed with innovation and uniqueness, while the plot prices vary. All amenities and living facilities are included to ensure everyone can live a remarkable life. The infrastructure is state of the art, and each block features something for everyone's needs and desires.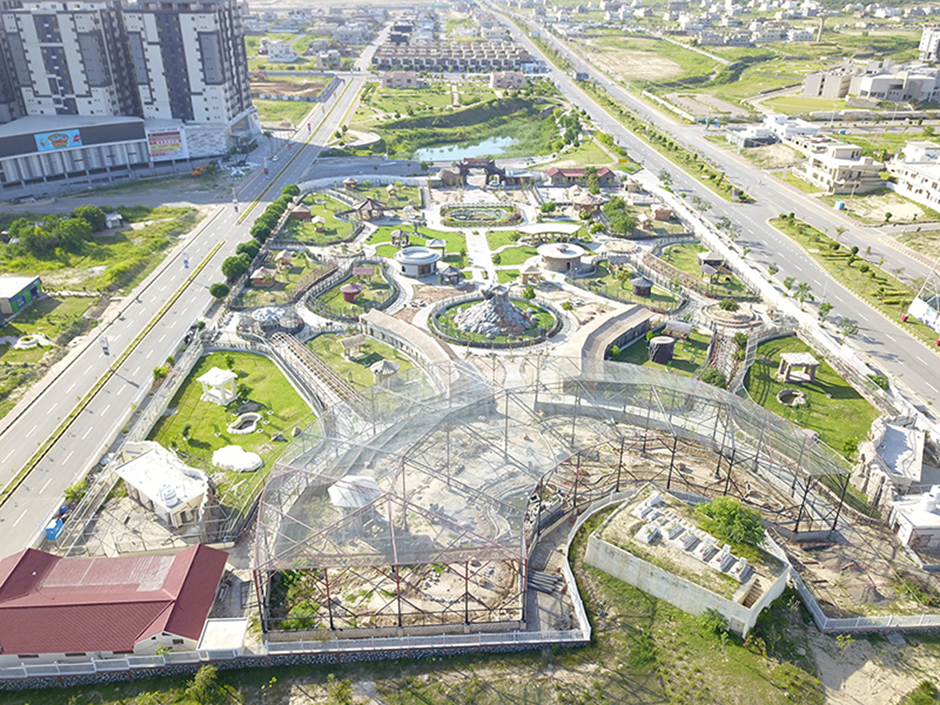 MULTI GARDEN B-17 ISLAMABAD: BLOCK A
Block A is a developed and expansive section of sector B-17, which is the hub for numerous commercial and residential opportunities. Road and other infrastructural development projects are nearly 97% complete. It is the largest block, containing all life's basic and advanced amenities. The Margalla Hills are inextricably linked to sector b-17 block A. There are carpeted roads measuring 40, 50, and 60 feet wide here, as well as:
Schools,
Colleges,
Parks,
A Lake,
Mosques
Commercial Sectors.
All of which contribute to a complete sense of community living. Numerous commercial and residential plots of various sizes are available via easy installment or cash payment. It ensures that everyone has the best investment opportunities.
MULTI GARDEN B-17 ISLAMABAD: BLOCK B
Sector b-17 most expensive and developed component is Block B, designed and developed to the highest standards. It is connected to Block A and the entire section, lavishly planned in Islamabad's prime location. It boasts superior investment and living opportunities, while property prices are higher than in some blocks of B-17. Road connections of 30, 40, 50, and 60 feet are distributed throughout block B, ensuring that all plots are easily accessible.
A university, schools, mosques, commercial areas, and parks are also available. Sector b-17 block B offers a high-quality, secure, and advanced living experience. Almost all the development work has been completed, and the remaining work is proceeding rapidly and will be completed soon.
For the convenience of our readers, the map is attached for your understanding of society. It is a masterpiece layout plan and the largest Multi-Professional Cooperative Housing Society (MPCHS) scheme.
MULTI GARDEN B-17 ISLAMABAD: BLOCK C
Block C is one of the most developed and remarkable sections of Multi Gardens, which offers residents various plot sizes. The construction and numerous other tasks have been completed, and you can easily purchase your desired property. It benefits from the best location, and all the block's components are attractively designed. A sizable portion of the site is dedicated to greenery to maintain a peaceful and healthy environment.
Sector B-17 Block C features a central mosque, a school, a college, a five-star hotel, and a lake. It is the ideal location to provide you with a dream lifestyle surrounded by recreational and basic amenities. Plots can be reserved with flexible payment and installment plans. Commercial and residential properties are both available in this location. Block C and C-1 also come under the jurisdiction of the Capital Development Authority.
MULTI GARDEN B-17 ISLAMABAD: BLOCK D
From Block D till Block G come under the jurisdiction of Rawalpindi Development Authority. It is an identical section of B-17 where the best community planning practices are implemented. Due to its superior approach, you will find it an excellent investment. Numerous improvements have been made, including sewerage, underground wiring, and gas lines. We cannot say that Block D is a fully developed section of Multi Gardens due to MPCHS's land acquisition issues. As a result of this issue, large swaths of land remain undeveloped or have only minor development.
Nonetheless, it is an attractive investment hub due to its idyllic location and bright future once the land dispute is resolved. This block contains educational, health, and other amenities. You can reserve your plot at attractive prices now, as the value will undoubtedly increase in the future, providing you with high investment profits.
MULTI GARDEN B-17 ISLAMABAD: BLOCK E
Regarding development status, Block E is identical to Block D. Even though there is no land dispute on this block, the work has not been completed. This block contains a variety of commercial and residential plots, and infrastructure work is currently underway. Wide, carpeted roads are surrounded by green belts. People have access to a peaceful and convenient way of life and exceptional investment opportunities. You will find the current prices of various plots very reasonable, but they will increase in the future.
LAUNCH OF B-17 G BLOCK and H BLOCK
Multi Gardens launched Block G a few years ago following the successful establishment of blocks A, B, C, D, E, and F. The developers have designed this block to symbolize progress, development, and vitality.
Block G's location map has also surfaced, and it, like the other blocks of B-17, benefits from a strategic placement. It will benefit from the optimal position of the M-1 interchange, which has already received approval for building. Investing in Block G property will prove to be the best real estate investment in Islamabad.
Due to its exceptional location and high development standards, the value and demand for this property skyrocketed.
The master plan for this new block has not yet been released, but it will likely be announced shortly. According to the latest developments, residential plots measuring:
5 Marla
7 Marla
10 Marla
14 Marla
1 Kanal is available for booking at moderate and affordable rates.
Booking is already open, and potential purchasers can also take advantage of flexible installment arrangements and rebates. Buyers will receive a 20% reduction/discount on full payment, which is an excellent bonus.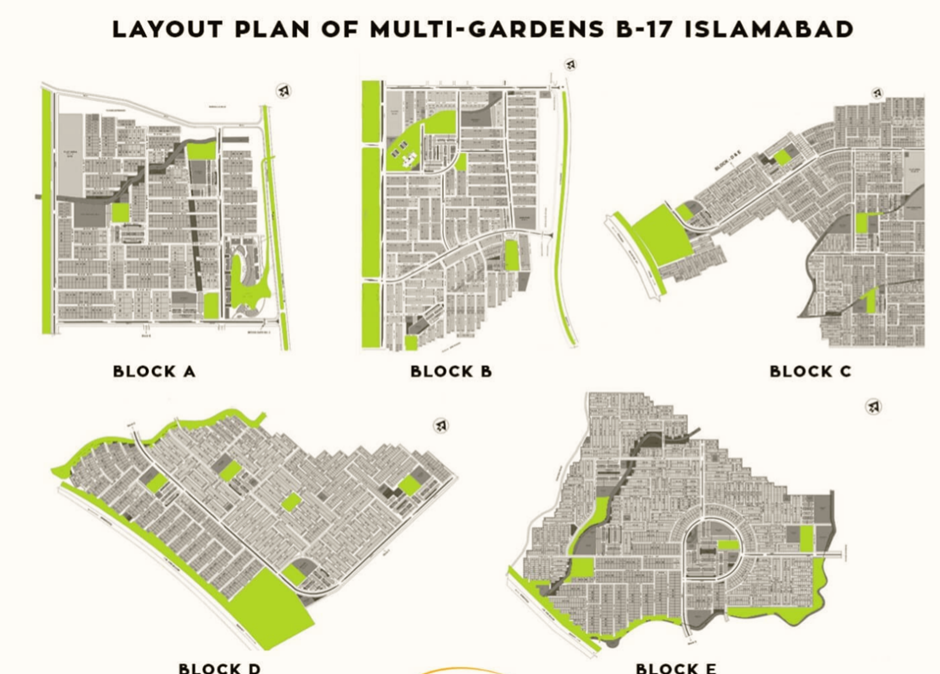 Why Invest in B-17 Multi-Gardens?
The multi-Professional Co-operative Housing Society is one of the most successful housing projects in the CDA sector of Islamabad. The investment opportunities are endless in society.
It is suitable for long- and short-term investment due to its excellent location, feasibility, quality of development, and high-profit margin. Let us discuss a few key points as to why it is a perfect option to invest in multi-gardens.
Safe investment
The rapid activity in the project has been successful in grabbing the attention of investors. It has become one of the most reliable avenues to invest in. The CDA sectors are risk-free investments due to approved NOC and no legal complications. Due to these factors, the place has gained a lot of attention from both buyers and sellers that are genuinely interested in doing business in the project.
Location
Location is the most key-selling point of this housing society. Just like Capital Smart City, the community has been approved for a designated interchange from FWO directly from Islamabad-Peshawar Motorway. It lies precisely between the businesses of Islamabad-Lahore Motorway and GT Road.
It also touches the Margalla Road from one side, part of the road that surrounds New Islamabad International Airport. The location is an essential feature that genuine buyers look into before they decide where to invest or keep for residential purposes; this society presents a fantastic opportunity.
The investors estimate the returns they will get and how much time while those interested in setting up residence.
Consider factors such as facilities, whether or not schools, colleges, hospitals & markets are close by, or if the housing society will be at a short distance from their workplace. This housing society offers all of these factors, making this project an ideal destination for investors and home buyers.
Quality Development
Another essential variable involved in society is its rapid and high-end development work. The management of the housing society is adamant about providing an excellence-driven development in a limited time.
The housing society is equipped with all necessary facilities such as water, electricity, gas, and all the remaining modern amenities that add value to this auspicious housing project.
Reasonable Prices
With the factors discussed above, demand for property, the sector increased immensely, and so have the prices. Since last year, the prices in the region have risen, so more genuine investors have become interested in the project.
The newly launched G block is the most active in the sector due to the development scope, attractive location, and initial price competitiveness.
Compatible Plot Sizes
The sector's easily tradable 5-marla and 7-marla plot options are the most popular and in demand. Both these plot sizes are appropriately sized plots for investment and for building a house for the family. For commercial, 40×50 and 40×60 plot sizes are the most sought.
How to transfer the plot in MPCHS?
You can conveniently transfer the files of plots in the sector from one owner to another. You can easily visit the government's main head officiated in the G-8 sector and get ownership of your story. You can get your scheme transferred the same day for a minimal transfer fee and consent from both parties.