Capital Smart City – Pakistan's First Self-Sustaining Smart Community
Capital Smart City is the master project of this century in Pakistan. This state of art project will be the First Smart City in Pakistan and the Fourth One in Asia. Launched on 6th October 2019, it is becoming one of Pakistan's most popular housing societies as it takes the living experience to the next level. The vision of Capital Smart City revolves around detailed Urban Management, which will promote efficiency, mobility, and Growth in Urban Sector. Enjoy the place, which is a dream for others. After the Successful launch of the top Smart Cities in New York, Amsterdam, Singapore, Dubai, Hong Kong, Barcelona, and London, the plan is to transform the capital of Pakistan, Islamabad.
Capital Smart City Location:
The Capital Smart City Islamabad (CSCI) is located in the Rawalpindi Region of Islamabad and is a 5 minutes drive from the New Islamabad Airport. Capital Smart City is Located Between the M2 Motorway and Chakri Road in Rawalpindi. The Project is about 40km from Zero Point at Lahore-Islamabad Motorway at a distance of 9.2 km from M-2 Toll Plaza near the Thalian interchange. It falls on the eastern route of CPEC. When traveling from Rawalpindi, CSCI is about 5.5km away from Ring Road and 26km from Saddar.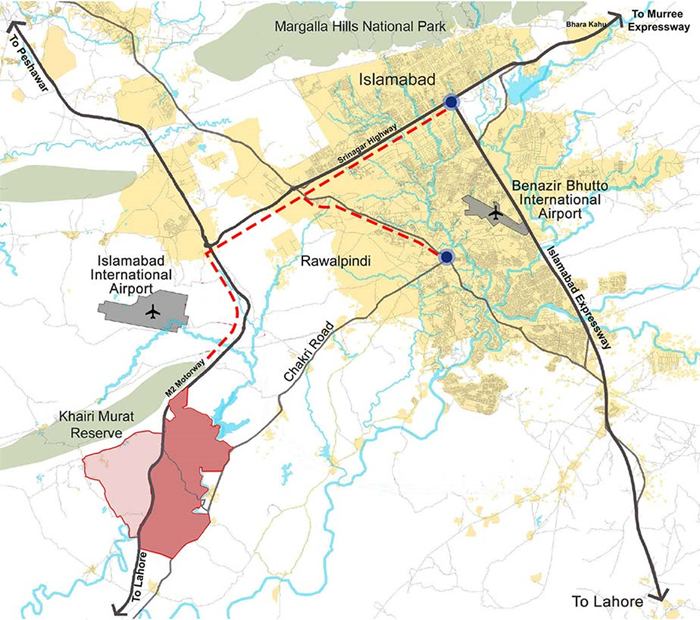 Access Points to the CSCI:
The public can easily access Capital Smart city through Main Chakri Road from M-2 Motorway, Saddar from Rawalpindi, and Thalian Village or Thalian Interchange. CSCI can be entered from the National Highway, Lahore-Islamabad Motorway (M-2), which FWO has approved.  It is the closest housing Society to the New Islamabad Airport. It is at an equal distance from the Twin Cities of Rawalpindi and Islamabad.
Capital Smart City Total Area:
Capital Smart society is now covering an area of 1 Lakh Kanal, starting with a total land of 55,000 Kanal. In August 2019, authorities submitted the request for an extension of the land. After the approval of the extension in June 2020, the land of Capital Smart City was equal to 80,000 Kanal. Considering that it will be the most significant housing society in the country, CSCI is ten times bigger than its neighboring Societies. The layout of the master plan given by Society at this moment is Approved by RDA, and the NOC has also been approved.

Project Partners of Capital Smart City:
Capital Smart City Islamabad is planned with a joint partnership between Habib Rafiq (Pvt)and Future Holdings Developments. Habib Rafiq (Pvt), also the pioneer of this Project, is a well-known name in the real estate industry in Pakistan. Habib Rafiq (Pvt) are developerBahria and DHA in Islamabad. They have also successfully executed their housing societies in Sargodha, Multan, and Sahiwal by the name of :
Royal Orchard Sargodha
Royal Orchard Multan
Royal Orchard Sahiwal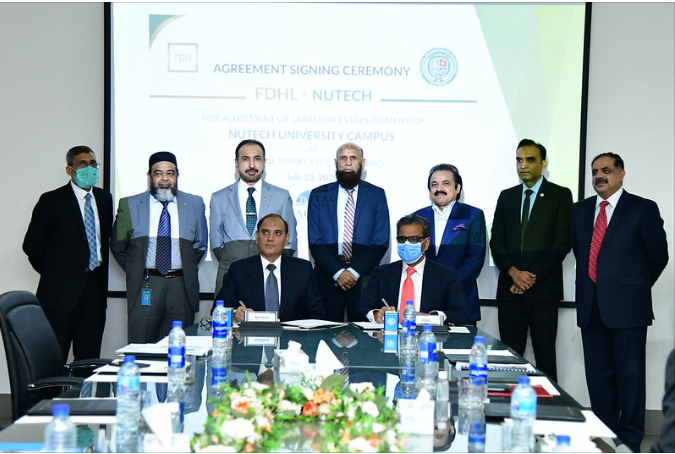 Habib Rafiq (Pvt) -The Builder of CSCI
Habib Rafiq Group has been the most renowned name of Real Estate in Pakistan and the World for the last 50 years. Habib Rafiq Group is known for its devotion and dedication to fulfilling customer requirements synonymous with quality and professionalism. The Group has prided itself on earning its ISO 9000 certification by constructing many prestigious construction and engineering projects in Pakistan. Even though the company has been in business for the Past Five Decades, it has earned its true respect and recognition in the market in the last 15 years after its trend-setting accomplishments.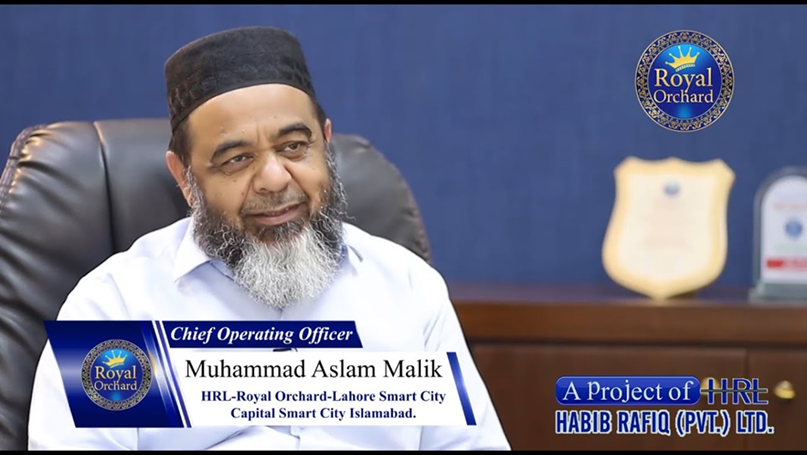 Habib Rafiq (Pvt) -The Builder of CSCI
HRL has transformed Real Estate in Pakistan through its invaluable engineering contributions through its idea of housing and infrastructure development. Their projects mainly focus on building houses, road infrastructure construction, electrical work, mechanical work, water tanks, and gas pipelines. They are the top Housing Society Developers in Pakistan. HRL has successfully retained the equilibrium and closed jobs of high engineering and financial value. They stand tall and firm over the strong foundation of reputation and trust. Habib Rafiq has a distinctive edge over all other developers in the market because of their electromechanical resources. Since 1962, Habib Rafiq (Pvt) Limited has come a long way to represent dedication, recognition, and professional Excellence by meeting the client's strict, pressing, and extraordinary work requirements.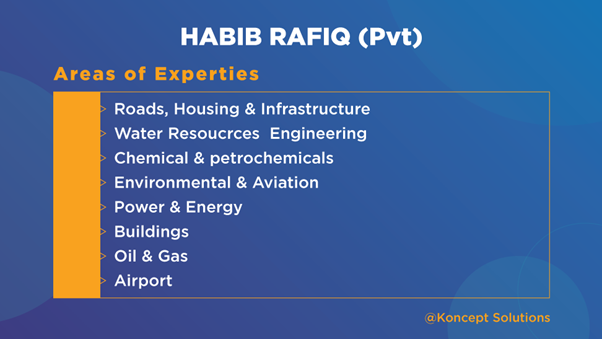 Future Developments Holdings Private Limited (FDHL)
FDHL is an official builder partner in the Project of Capital Smart City. Future Developments Holdings Private Limited was registered under Companies Ordinance 1984. Since then, many construction and Real estate companies have become part of FDHL to create the world's leading organization. The core principles of FDHL are integrity, honor, and commitment. At Future Developments Holdings Private Limited (FDHL), they ensure that their team precisely follows their code of ethics and honors their commitments.
FDHL combines China Liaoning International Economic and Technical Cooperation Group Corporation Ltd (CLIC) and Engineering Dimensions (Pvt.) Limited (EDL) – two of the leading companies with expertise in leadership and technical skills. They aim to deliver the best in the real estate sector in Pakistan. Their team and sponsors have years of experience in construction and development. They have successfully provided some of Pakistan's best and most renowned projects. Working with Habib Rafiq (Pvt) Limited, they have planned to develop two state-of-the-art residential zones and a modern industrial zone of Capital Smart City on the vital M2/CPEC route to cater to the demand of Pakistan's flourishing industrial sector.
Surbana Jurong Group -The Master Planner of CSCI
Surbana Jurong Group is a Singapore-based service consulting firm. The company has delivered many projects related to global urban infrastructure in the past 70 years. Surbana Jurong has a global talent pool of 16,000 with partners like AETOS, Atelier Ten, B+H, KTP, Prostruct, RBG, SAA, Sino-Sun, and SMEC. They have more than 120 offices in over 40 countries. Surbana Jurong Group provides architecture, designing, planning, and engineering services. The team has professionals guided by open-minded thinking and creative ideas to help shape a more promising future. Surbana's technical specialists produce sustainable resolutions covering the Project's life cycle, from planning and design to delivery and management, execution, and finishing. They provide a full suite of multidisciplinary consultancy services across various sectors like energy, resources, aviation, healthcare, hospitality, transport, water, and the environment. They are prided on building more than a million homes in Singapore. The Group has created master plans in over 60 countries and developed over 100 industrial parks globally. 
Their other projects in Pakistan include:
Reko Diq Mine-Concept & Feasibility Studies 
 Contract Advisory, Engineering & Specialist Services
Pakistan Petroleum Limited Call-out Services
Construction Management, Engineering & Specialist Services
Surbana Jurong goes with the mission of Building Cities to Shape Lives. They take every Project as an opportunity to fulfill aspirations and improve lives. Surbana Group will play its part in Capital Smart City by designing and delivering quality housing, workspaces, roads, rail, hydropower, dams, underground and coastal protections, and other critical infrastructure their clients need. They will redefine the capital city and transform it into a sustainable and liveable space where residents and companies, present and future, can prosper.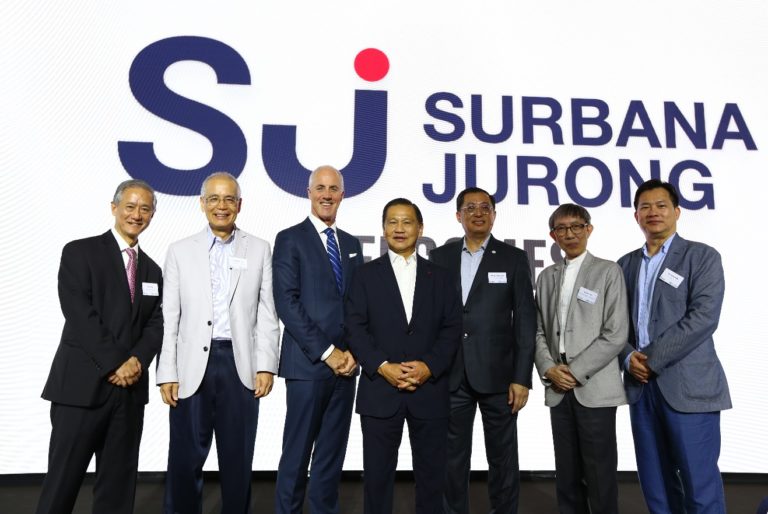 Unique Features of Capital Smart City
Capital Smart City is going to be the first smart City in Pakistan. It will offer its residents a remarkable and stylish living experience to appreciate because of its extraordinary features. CSCI society will incorporate advanced technology and smart features. Here is a list of the unique features of CSCI:
18-Hole Golf Course
Metro bus system
Subterranean Electricity
24/7 Water, gas & electricity
Smart apps, i.e., traffic, weather, electricity, internet
Hotels, Shopping centers, and Sports clubs
Moven Pick hotels & Resorts
Established interchange from M-2
Nearness to Islamabad and Rawalpindi
Eco-Friendly City
Advanced Security
Green and Clean environment
Innovative and contemporary Housing plan
World Class infrastructure
Overseas block
Mosques, Parks, lakes
Recreational Activities
Sizes of Roads in Capital Smart City
The minimum size of the road is 40 feet.

The width of Central Boulevard is 400 feet.

Other Main Roads are 180 feet, 150 feet, 120 feet, 100 feet, and 80 feet.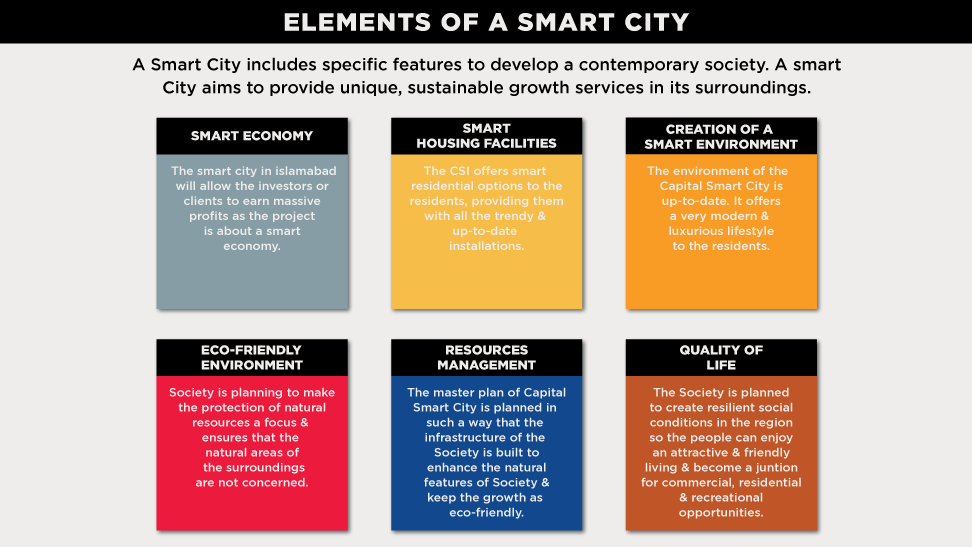 Facilities in Capital Smart City
The primary vital factors presented in the housing society are detailed as follows, along with their features stated by the Capital Smart City:
1. Executive Block
Residential Plots
Residential Villas
Hospitality
Retail
Food and Beverages
Health Care 
Education
Religion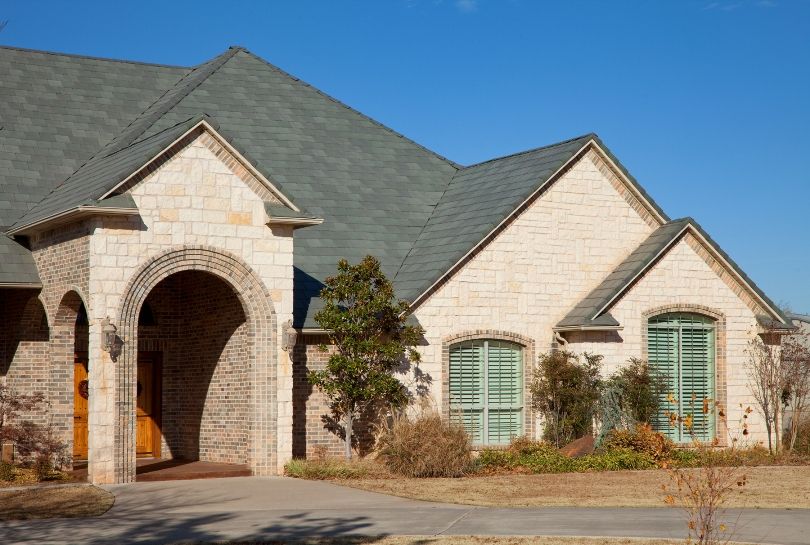 2. Hill Vista
Residential Plots
Residential Villas
Golf Farmhouses
Retail
Food & Beverages
Golf Club House
Community Club
18 Hole Golf Course
Golf Academy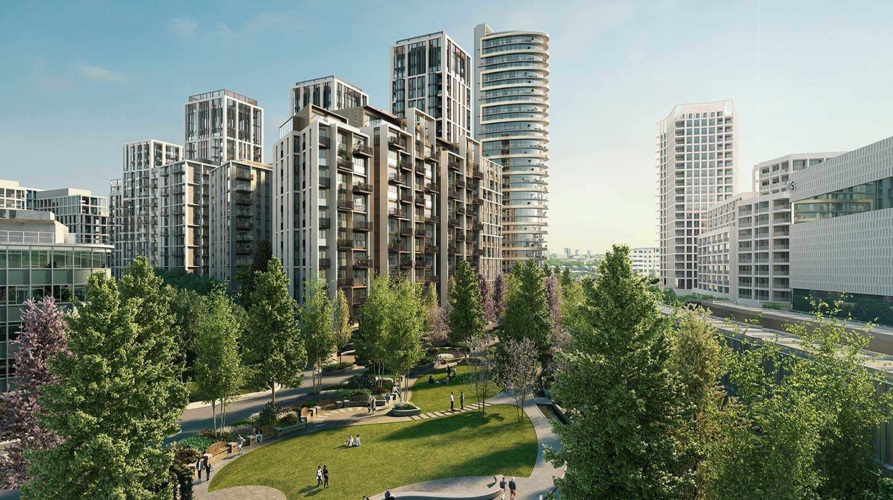 3. PANDA District
Shopping Mall
Light and Music
City Walk
Hospitality, Retail, Food, and Beverages
Mixed Use
Residence, Apartments, and Offices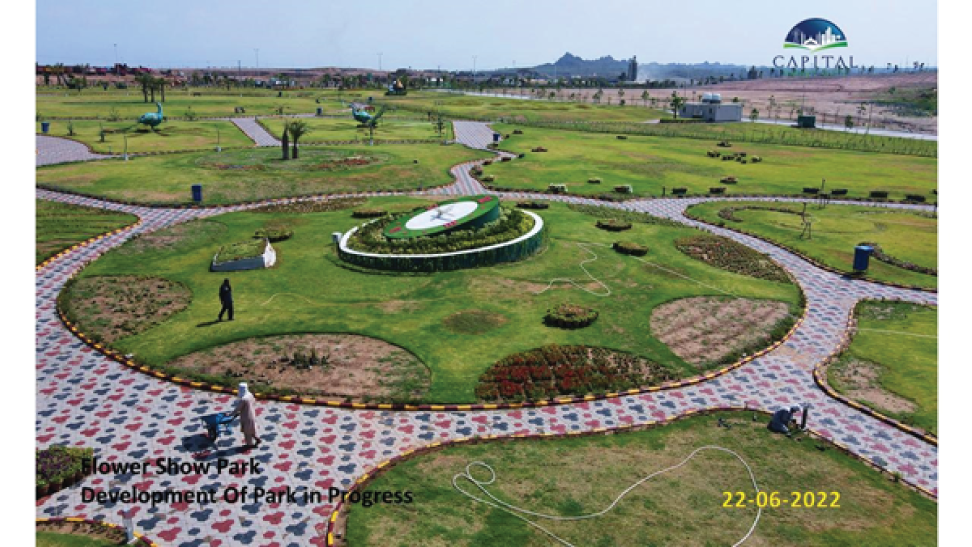 4. Crystal Lake
Shopping Mall
Crystal Water Lake
Floating Village
Light & Musical Dancing Fountain
Hospitality, Retail, Food & Beverages
Mixed Use Residence Apartments & Offices
Concert Arena
3D Max Cinema
Star Hotel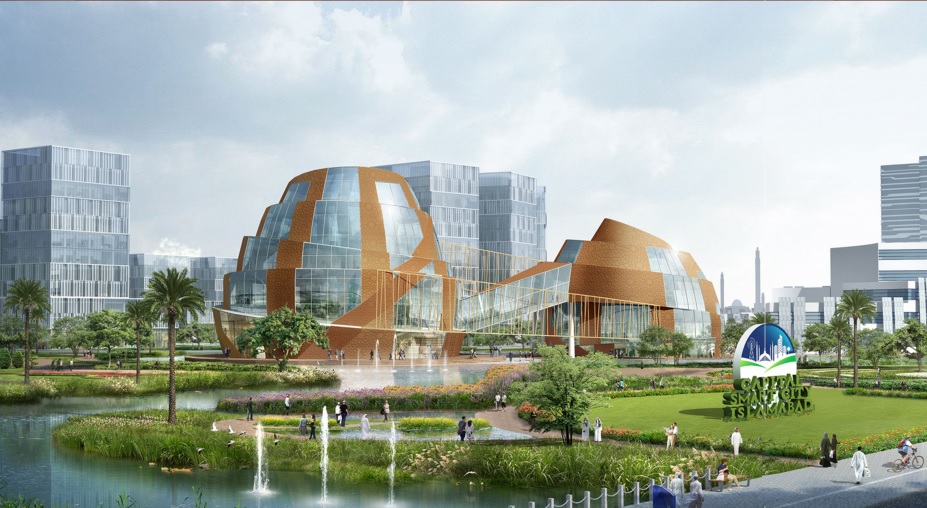 5. Financial Square
Financial Square Gate Offices
Bank Corporate Offices
Residence Apartments
Conference/Exhibition Halls
Hospitality, Food & Beverages
5-Star Boutique Hotels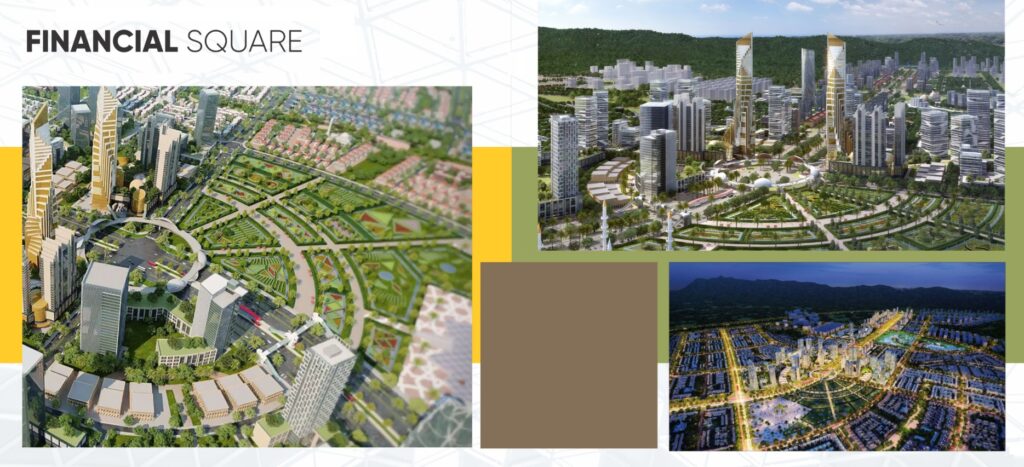 6. Aviation Village
Logistics Warehouses
Cold Storage Warehouses
Exhibition Halls
Logistics Corporate Office
Operational Technology Offices
Hospitality, Food & Beverages
3 Star Hotels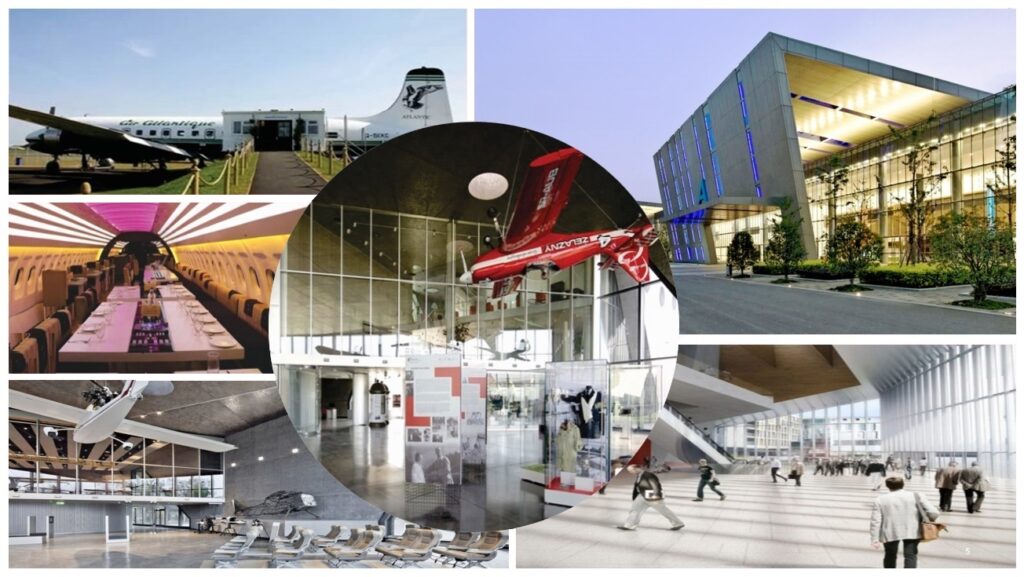 7. Holiday Parks
Street Food Truck Park
Bird Park
Theme Park
Holiday Resort
Retail
Food & Beverages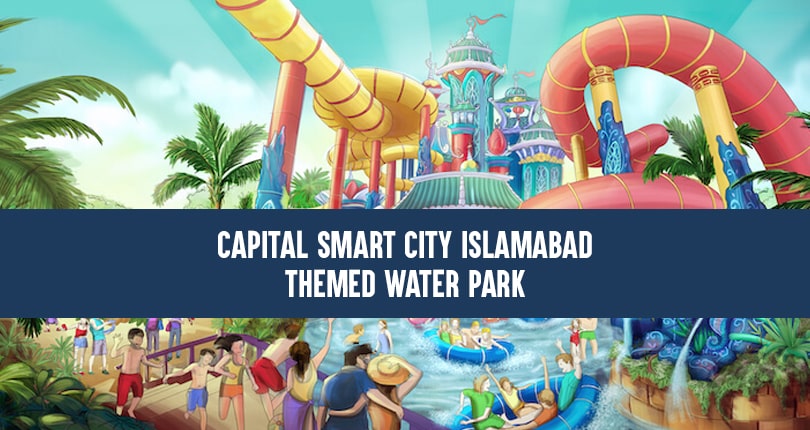 8. Healthcare Facility
Hospitals
Clinics
Laboratories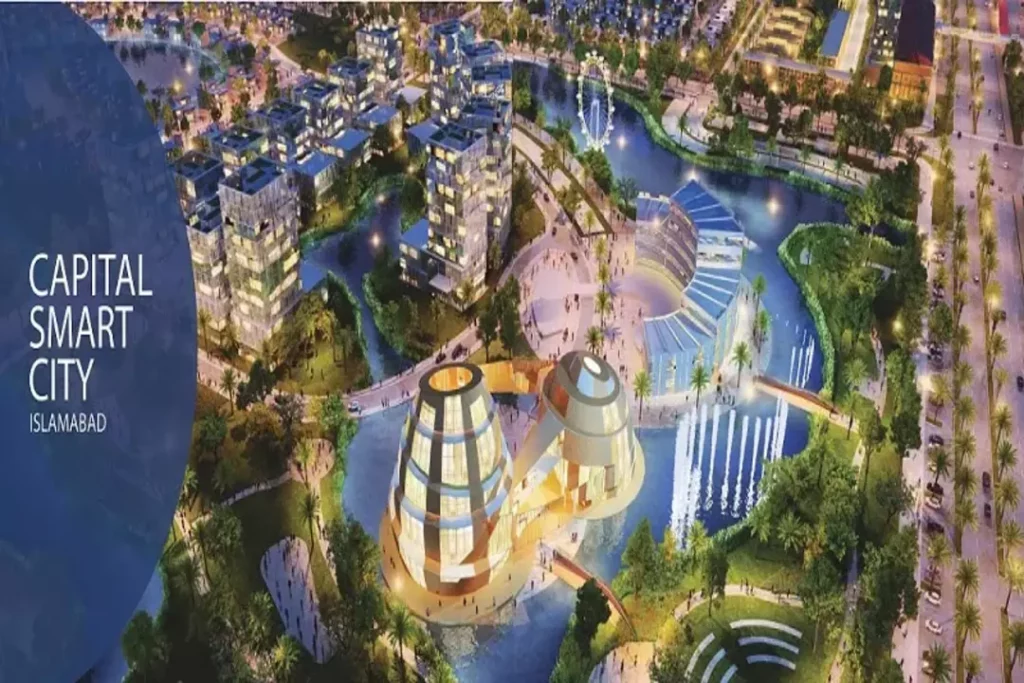 9. Education City 
Universities
Medical Colleges
Schools
Day Care Centers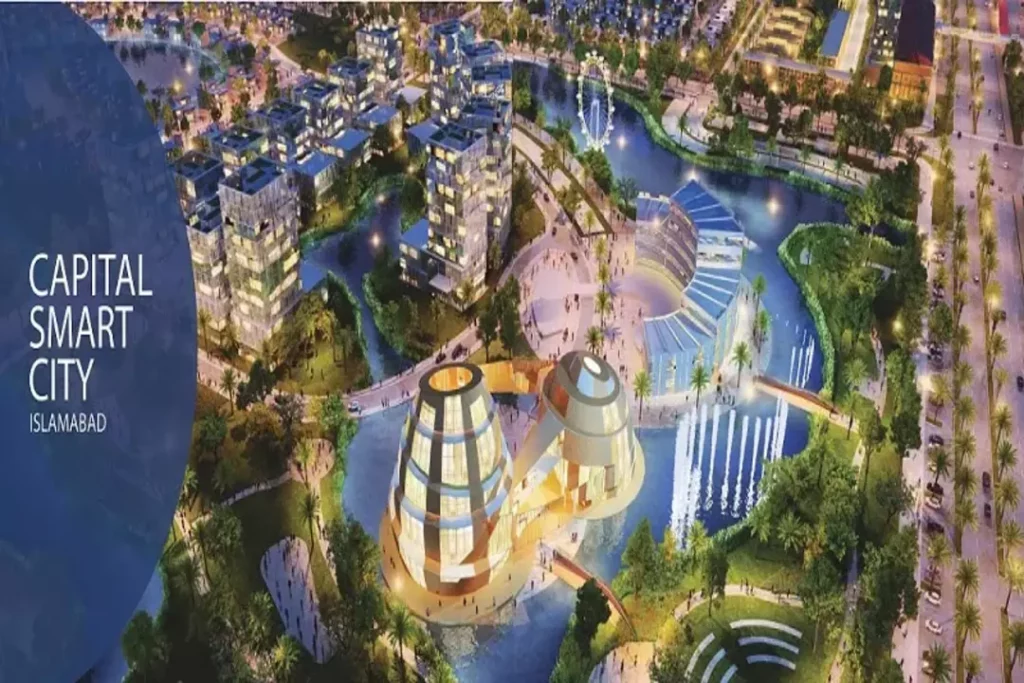 10. Overseas District
Residential Plots
Residential Villas
Residential Mansions
Hospitality
Retail
Food & Beverages
Health Care
Education
Mosque
Admin Building
Linear Park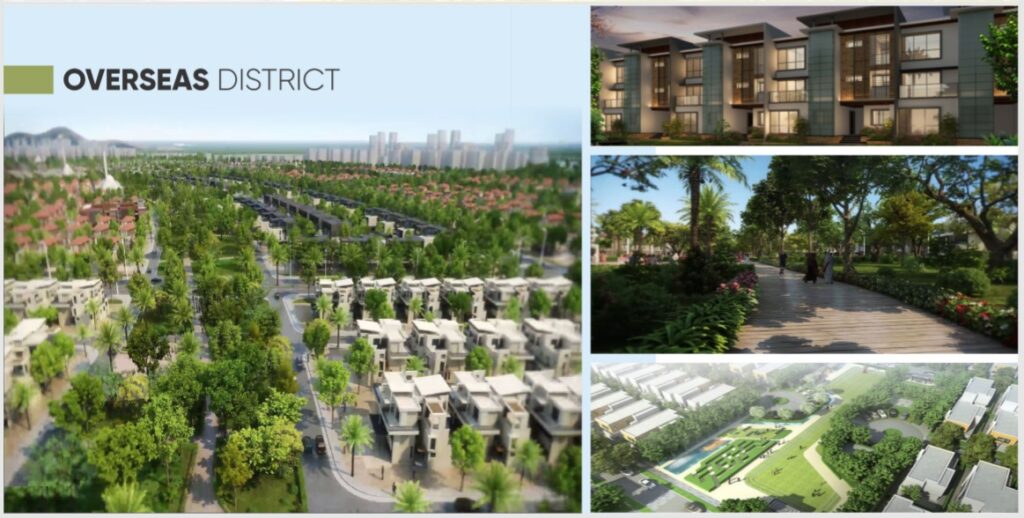 11. Mosques
Main Mosque (Grand Jamia Mosque)
Sector Mosque Park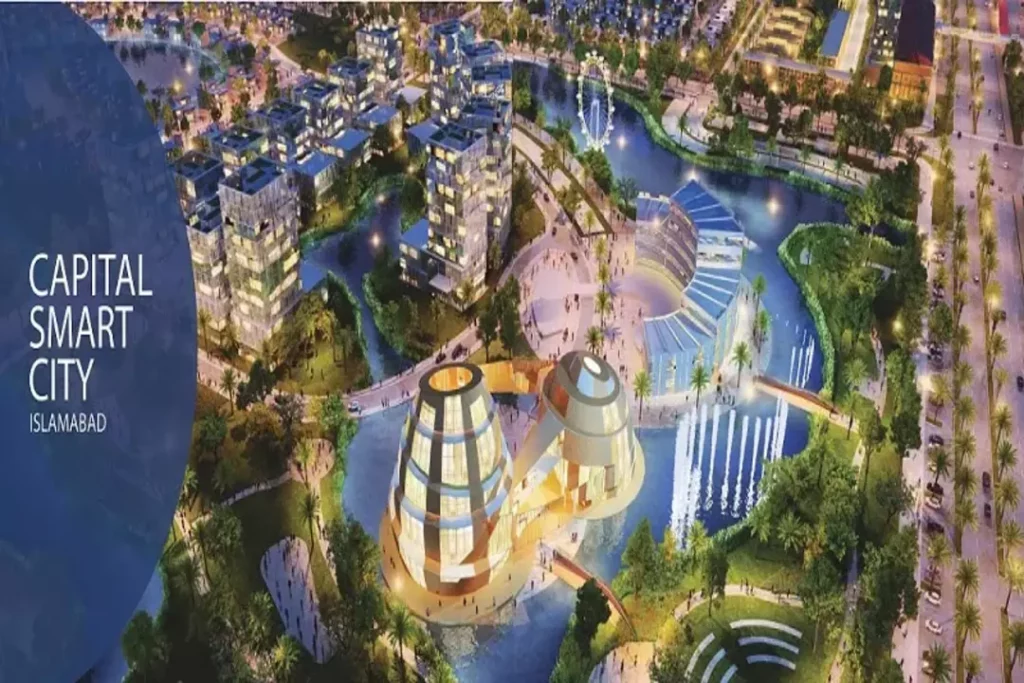 12. BRT System
Interchange
Bus & Public Transport Stations
Operation & Maintenance Facilities
Bus Lines
Integrated Metro Bus System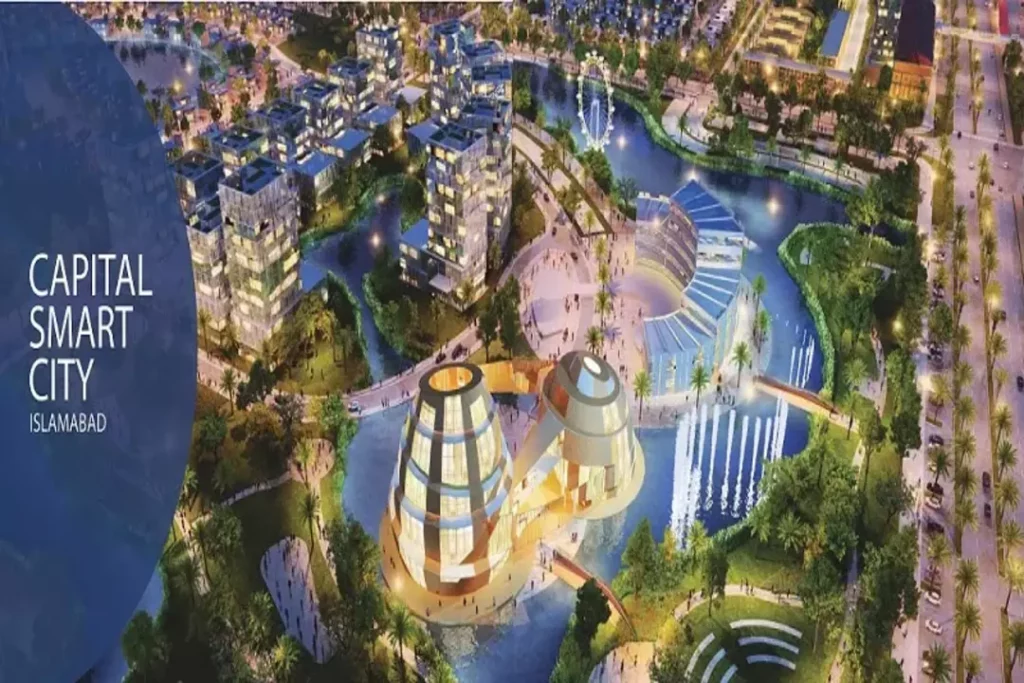 13. Urban Utilities
Street Food Truck Park
Grid Station
Solar Parks
Potable Water Treatment Plant
Police Station
Sewerage Treatment Plant
Irrigation System
Security Control
Fire Fighting/Civil Defence System
Solid Waste Management System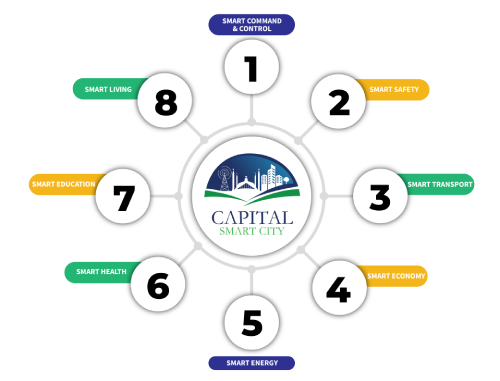 14. Infrastructure 
Dedicated Interchange
400 ft Wide Central Boulevard (18 Lanes)
Road Network
Gate Entries
Boundary Wall
Landscaping
Street Light
Running Tracks
Cycle Tracks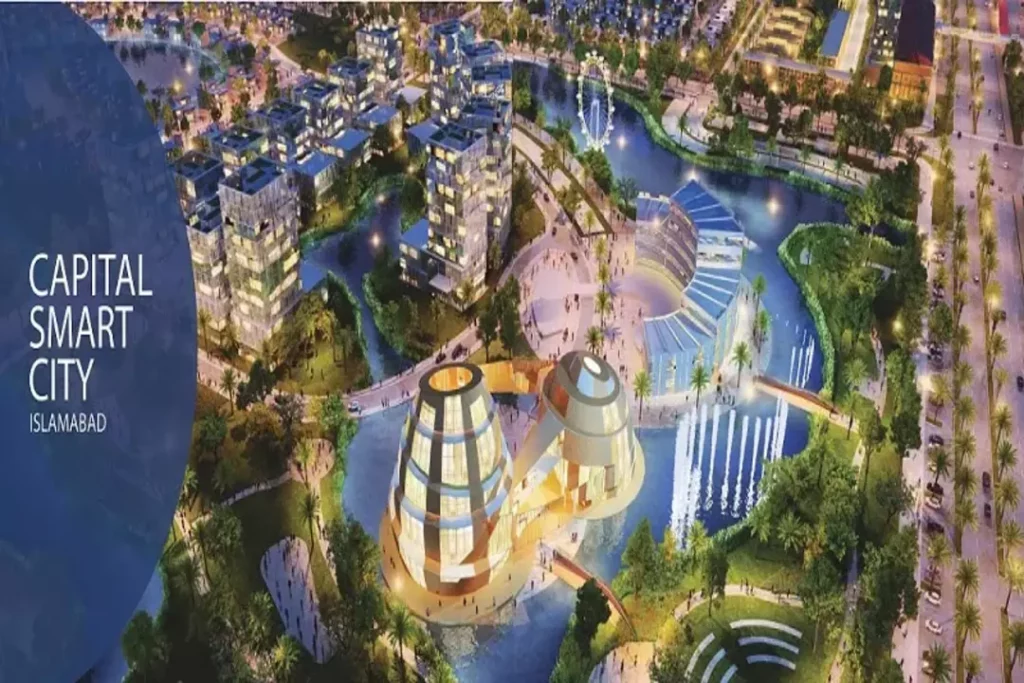 15. Smart City Facilities
Load Shedding Free Environment
Automated Traffic Control
Automated Utility Supply
Environmental Collection
CCTV with Facial & Object Recognition
Automated Street Lights
Free Wi-Fi Spots
Automated Air Conditioning Control System
Electric Bikes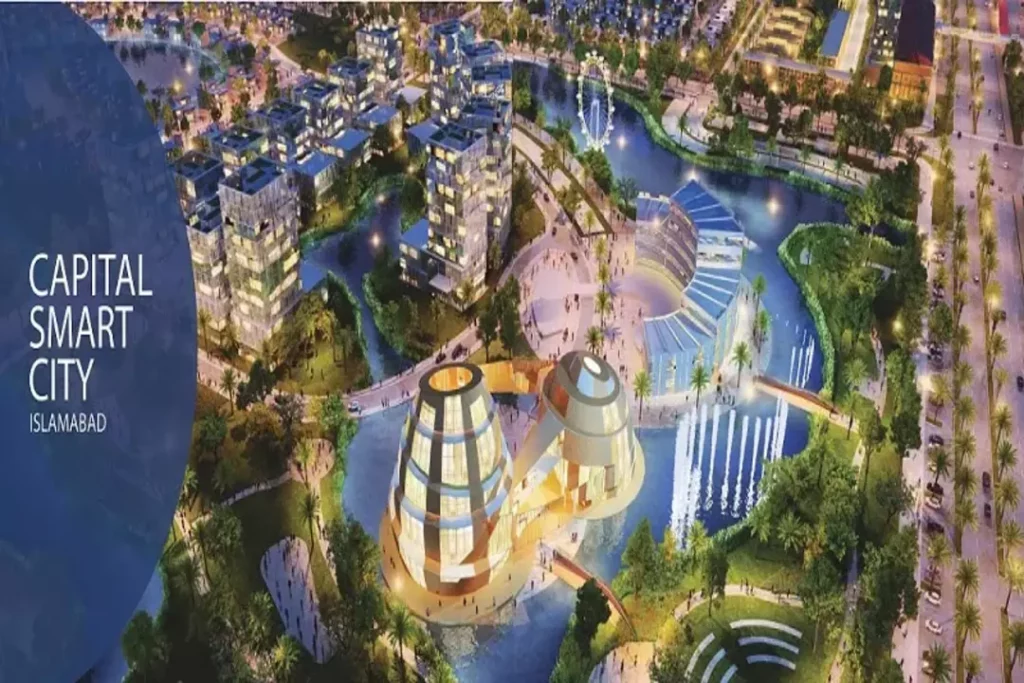 16. Garden Parks
Flower Gardens
Linear Gardens
Heritage Gardens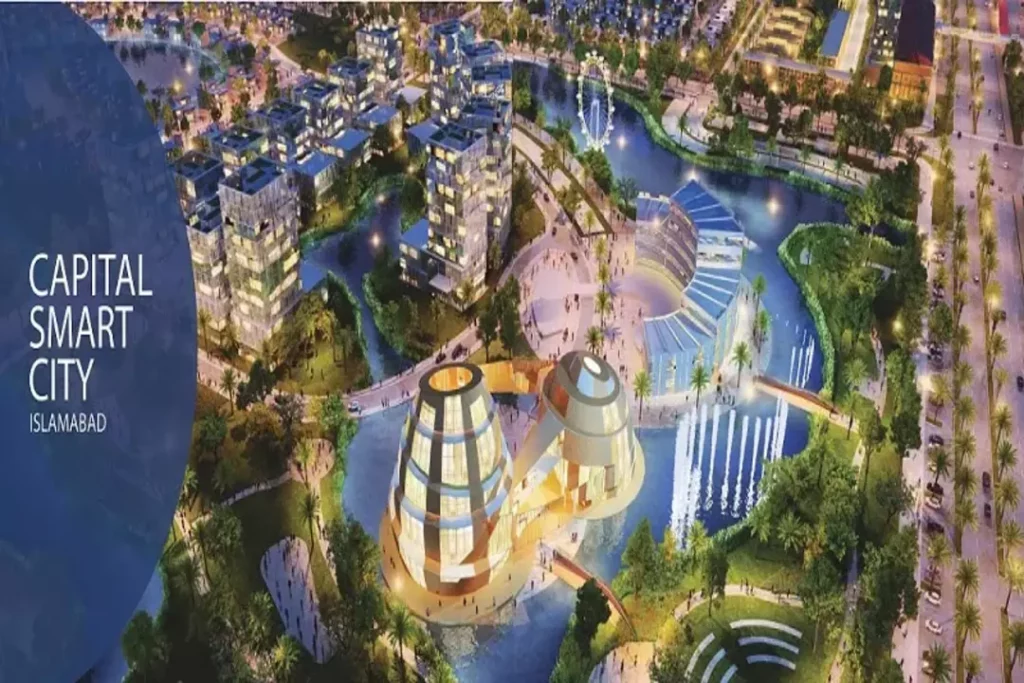 17. FDH Buildings 
Sales Gallery
Facility Management
Food & Beverages
Hospitality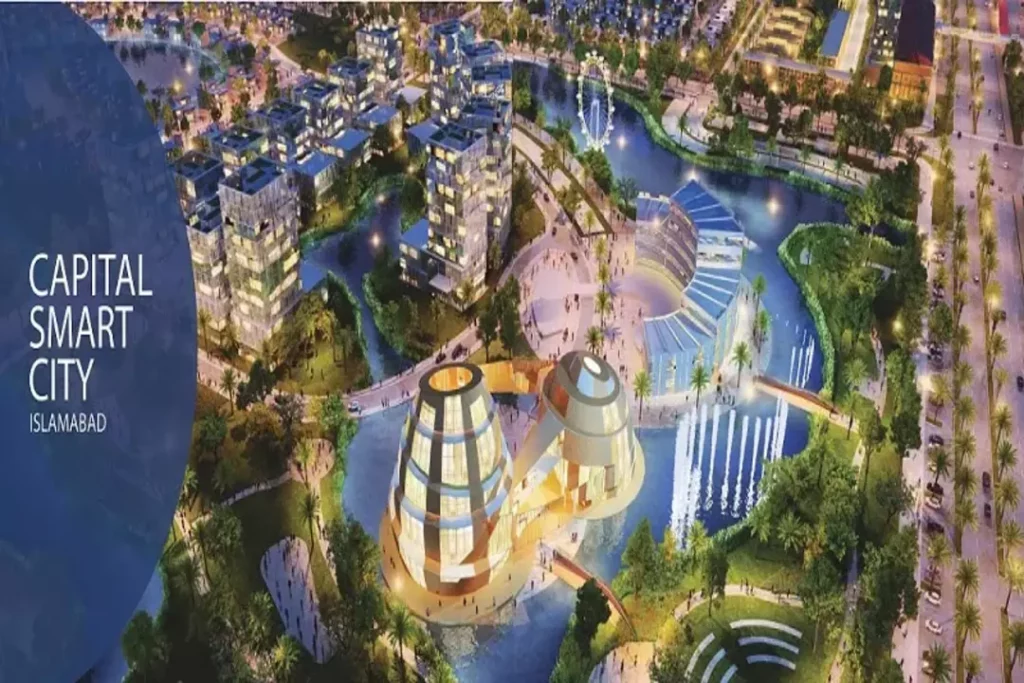 Districts of Capital Smart City
Capital Smart City is further divided into separate districts. Based on these Districts, the land is distributed and allotted. All Districts of Capital Smart City are as follows.
1.     Gate Precinct District
Grand Gate Precinct is the entrance to Capital Smart City. Many luxurious world-class hotels and vistas are located here to give the entrance a grandeur appearance. This District has high-end residential and mixed-use buildings. Residents can access Capital Hills Golf Club through the Gate Precinct.
It has the following buildings:

5-Star Hotels
3-Star Hotels
Service Apartments 
Offices
Commercial/Retail
Pavilions-200 Outlets 
Apartments /Mixed-use Buildings
Mosque
Recreational Parks
Educational Institute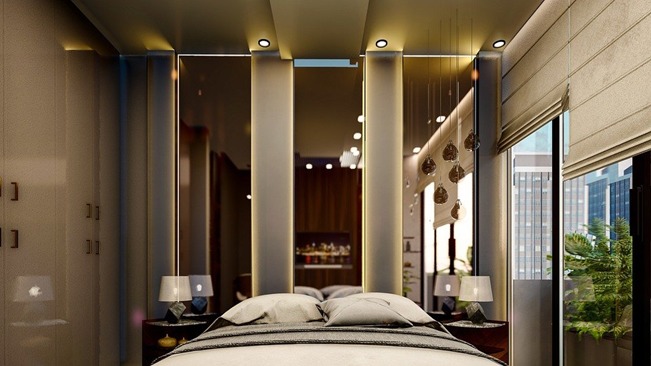 2. Aviation District 
Aviation District is specially designed to be at the center of multidisciplinary projects. Located Near New Islamabad Airport, this District is a zone that caters to logistics for the Aviation Industry. It is further composed of Aviation Academy, Iconic Expo Center, Museum, Aeronautical Gallery, and Technology Park. It is designed as the Perfect spot for a Shopping spree and modern malls.
It further includes 
Expo Center
3-Star Hotel 
Mix Use Building
Mall
Airline Services
Research and Development
Technology Park
Business District
Flight Kitchen
Mosque
Residential Apartments
Aviation Academy
Food and Beverages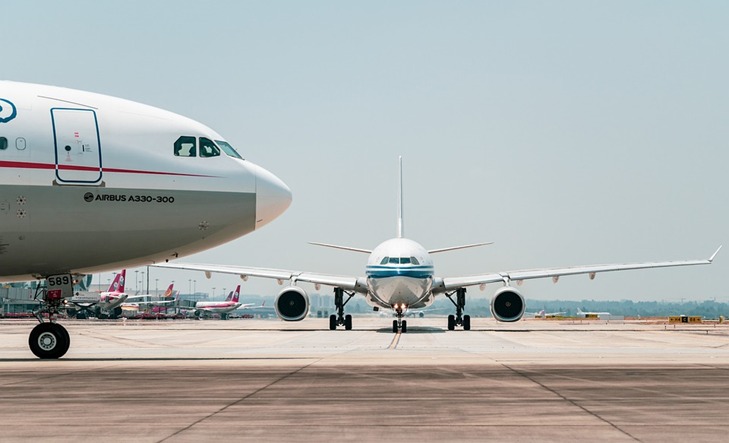 3. Crystal Lake District 
Crystal Lake is going to add extraordinary style to the Capital Smart City. This modern District will be a fusion of Fashion, Food, Arts, unique Architecture, stylish Interiors, and Luxury. Its amusements and experiences will be the City's leisure destination. The Residents of Crystal Lake District will be surrounded by dancing Fountains, Lake Walks, Featured Cafes, High-end retail, and Hotels. The IT, Silicon Valley, and Media Hub in Crystal Lake will bring advancement to the region. Silicon Valley Pakistan will accommodate more than 100,000 IT skilled workers.
Jamia Mosque 
Sales Gallery
Command and Control Center
Lake Side Walk
Apartments Mixed Use
Offices
Mosques
Apartments
High-end Hotels
Waterfront Shopping and Retail
Light and Musical Dancing Fountain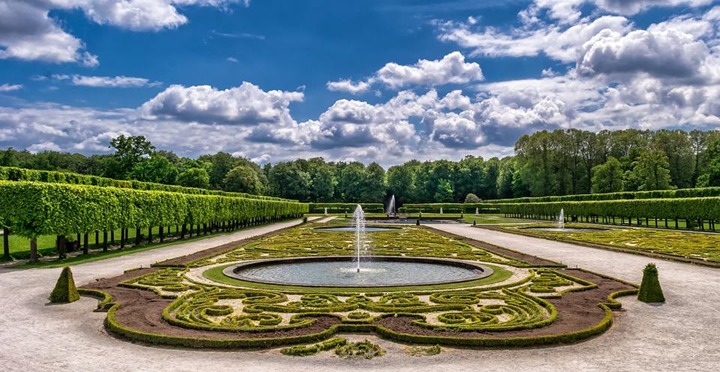 4. Boulevard Heights District
To support the Economic and Business activity of the Financial Square, the Capital smart city will have a community-based area called Boulevard Heights. Here the pavilions will share the global business providing residents with a vibrant and creative environment. This community will be a safe and fun place for all with its public parks, facilities, green space, and retails. All of the areas will be connected with the Metro Bus System.
5- Star Hotel
Pavilions
Mosque
Mixed-Use Buildings (Retail, Offices, Apartments)
Residential Apartments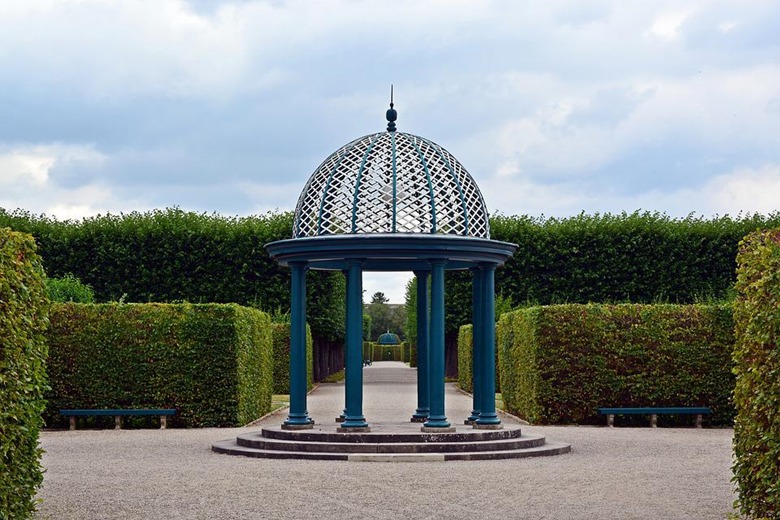 5. Financial Square District
Capital Smart City will have the largest Financial Center in the region, called Financial Square. It will have Qatar and Pakistan Financial Center and CPEC tower. Financial Square will create many trade and business opportunities. With 2 Metro Bus stations, it is 5 minutes drive from the New Islamabad International Airport. Designated Rotary Pedestrian bridge will provide safe traveling for pedestrians. Financial Square is embellished with a mall for the entertainment of residents.
Financial Towers

Hospitality, Food, and Beverages

Conference /Exhibition Halls

Offices

High-End Hotels

Corporate Offices

Linear Parks

Jamia Mosque

Pakistan International Finance Center (PIFC)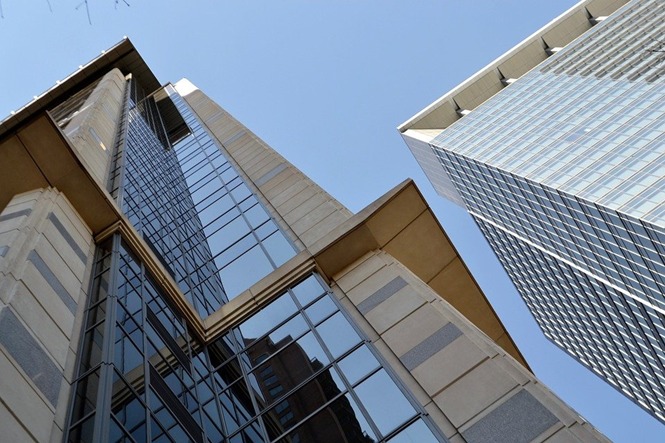 6. Educational District
This area is reserved for educational activities. National Defence University has already signed an agreement to open up its branch. Although each residential block will have its local schools and institutions, this district is solely meant for this purpose.
NUTECH University Phase 1
NUTECH University Phase 2
Students Hostels &Accommodations
Library
National Defense University
Medical College
Medical Research Facility
Gallery
NUML University
Mixed Use Buildings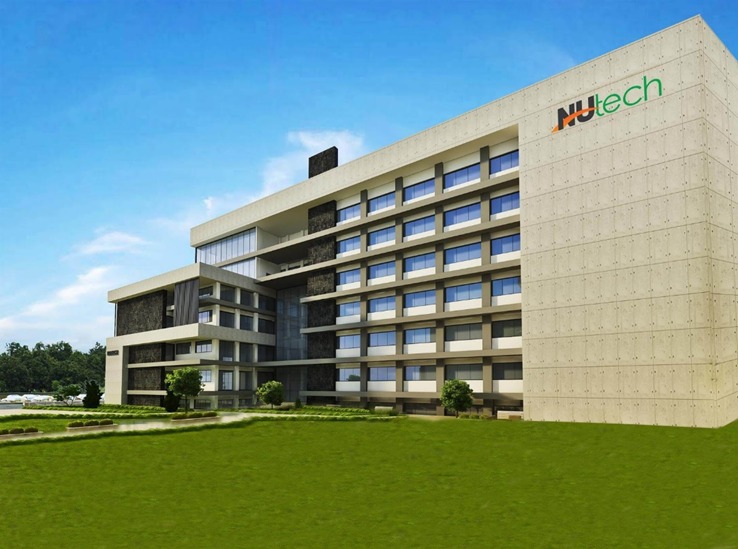 LIGHT
First Smart School for OSC Children" by CSC & ALIGHT The first Smart School for OSC (Out of School) Children is now in progress at Capital Smart City. Capital Smart City achieves another social responsibility goal. Mr. Zahid Rafiq, Chairman FDHL, and Dr. Tariq Cheema, CEO ALIGHT, have signed an agreement to build the first Smart School for OSC (Out of School Children). Under the supervision and direction of world-renowned British-Iraqi architect Zaha Hadeed, the school will be built and operated by "Alight" Design at Capital Smart City.
NUTECH
National University of Technology (NUTECH) and Capital Smart City (CSC), Islamabad, joined hands to develop and operationalize an innovative futuristic campus of Technology University of International Standards in CSC. An Agreement signing ceremony between NUTECH and FDHL (CSC) was held on 23 July 2020 at the NUTECH campus. As per the Agreement, CSC shall be a pivotal partner to support NUTECH in the allotment of land for NuTech's main campus and subsidize necessary support services for its operations. On this occasion, Rector NUTECH Lt Gen (R) Khalid Asghar and Pro-Rector Maj Gen Khalid Javed congratulated Mr. Zahid Rafiq, the Chairman of CSC, and his team. This partnership will promote higher education in the realm of creation, promotion, transfer, and implementation of indigenous technologies and help solve problems of our industries by way of R&D and meeting their HR requirements in terms of young engineers, technologists, and skilled workforce. The ultimate shared goal of this joint venture is to enhance Pakistan's industrial growth and economy. NUTECH Main Campus shall help achieve its Vision and Mission of producing entrepreneurs and industrial leaders of Character in the coming years. NUTECH Campus in Capital Smart City will be the largest Technological University in the region, hosting +35,000 students
To promote a Healthy living Style, Capital Smart City is launching the hub of Excellence, HealthCare District. The district will be supplied with the latest equipment and machinery under the supervision of technical staff. Special consideration is taken for timely and accurate diagnostics. Laboratories are supplied with the best technological advancement to equip them with proper Diagnostic Procedures.
MRI
Dr. Saeed Akhtar and Partners have planned to establish a World Class first ever Smart International Medical Research Institute in the Health District of Capital Smart City, Islamabad. For this purpose, Chairman FDHL Mr. Zahid Rafiq has Donated 500 Kanal of land free of cost to IMRI. It will host a multidisciplinary hospital initially 20 beds including a medical college, nursing school, smart research center, etc. On April 6th, 2021 a Contract Signing and Ground Breaking Ceremony was held at Capital Smart City Project Site. Dr. Saeed Akhtar during his address explained the core values for a strong foundation of the Institute Infrastructure, Human Resource, System, Will, Vision, and Ambition.
Harley Brain and Spine Clinic
Pink Ribbon Hospital
German Hospital 
Proposed Location for Agha Khan Hospital
FDHL
Margala BDS Hospital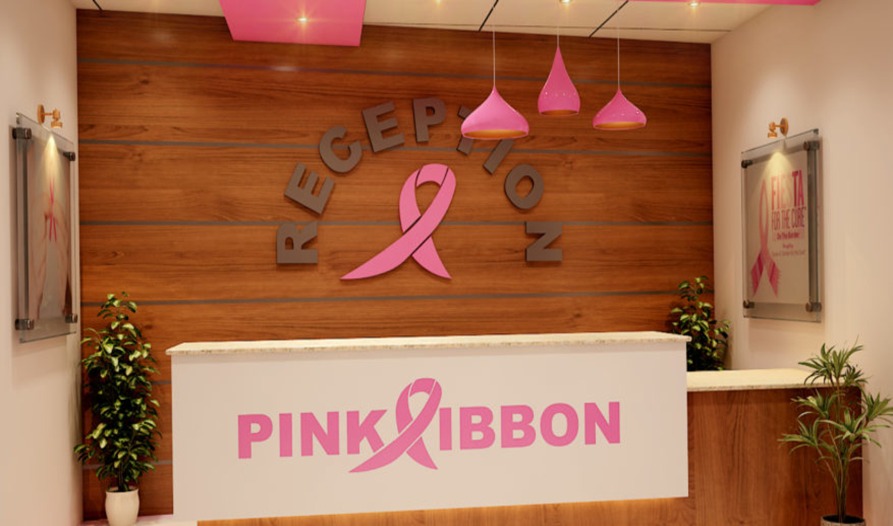 8. Lake View Terrace District
Lake View Terrace is one of the most awaited areas of Capital Smart City. With its scenic views and waterfront, it is going to mesmerize the residents. Lake View Terrace has a serene and peaceful walking area, lovely boat rides, and interesting cafes with incredible vistas. It is easily accessible to the residents of the Society. Residents of this District can enjoy the life-changing experience of watching dawn and dusk.
Gandhara Art Museum
Community Club
Terrace Apartments 
Garden
Lake View Villas
Central Park
Villa Apartments 
Beach Front Food and Beverages
Lagoon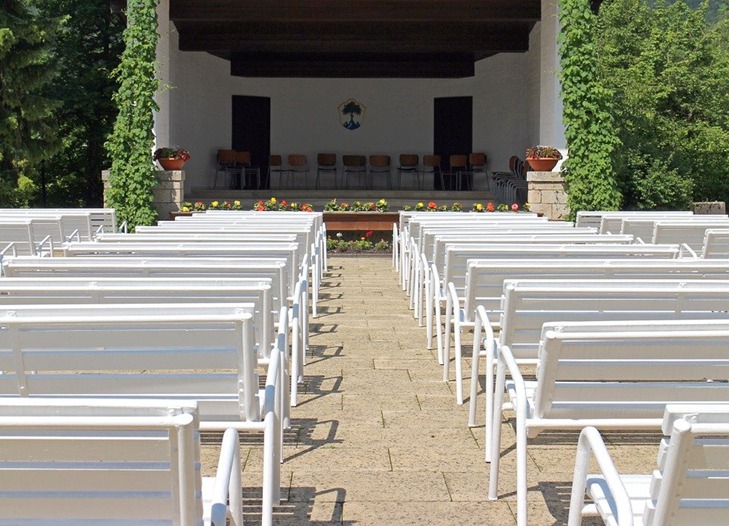 LA MER District is a retail, Hospitality, and entertainment area. This area is close to the lake giving it a fantastic atmosphere. It is a genuinely integrated area by the side of the capital hills. The plan is that it will be a popular destination for fine dining, restaurants, coffee shops, and street-style food stalls. It is surrounded on three sides by the lake.
Marina
Open Air Theatre 
Leisure and Entertainment
Retail& Shopping
Zoo
Water Theme Park
Apartments
Islamabad Design District (IDD)
City Walk
3-Star Hotel
4-Star Hotel
5- Star Hotel
Community Park
Parking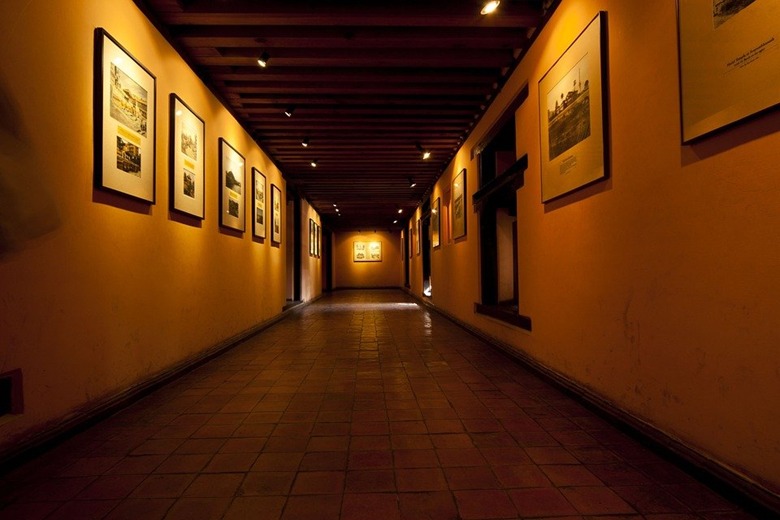 10. Capital Hills- Golf and Country Club District
Capital Hills is the Extravagant zone of CSC. It is designed for recreational purposes. The golf course will attract a lot of community. Capital Hills will have the best development style, including building and landscape. Capital Hill Villas are in a peaceful location with the best quality services. Islamabad's first True-hill's style 18 Holes PGA Standard Signature Golf Course. It will contour terrain, challenging golfers.
The 18-hole golf course is going to become the 1stever signature Golf Course in Pakistan. Capital Golf Club Features Golf Academy, a driving course, and a practice putting green. Moreover, in Pakistan, golf is not much talked about. Hence this will be a golden opportunity for Golf Lovers in Pakistan. Furthermore, the construction of work was likely to complete at the start of 2020.
Downtown Capital
Grid Station
Golf Villa South
18 Holes PGA Standard Signature Golf Course
Goff Maintenance Building
Banquet Hall
Golf and Leisure Club
Golf Villa North
Jamia Mosque
Lake View Apartment
Sunflower Villas Neighbourhood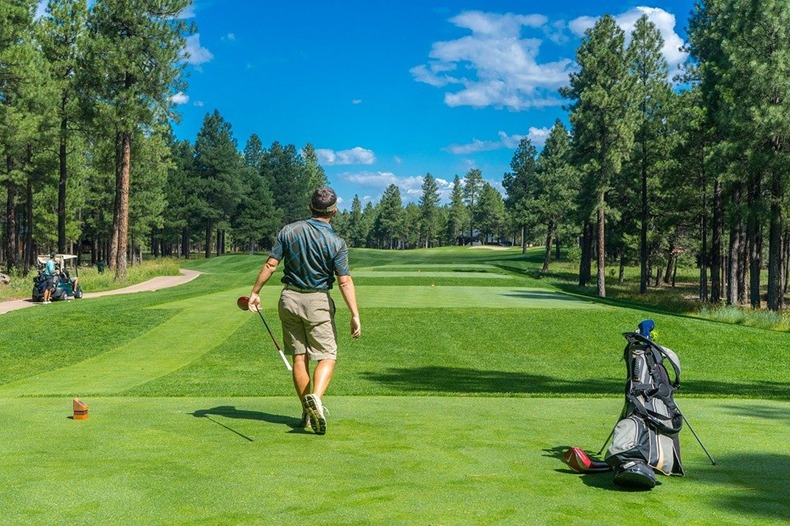 Located in the center of Capital Smart City is the Overseas East District. This District will be the epitome of a world-class destination for its residents. It will attract business and economic activity because of its nearness to the Financial Square. The district is Designed with different residential options to fulfill the needs of the inhabitants of Capital Smart City. Services here include retail, hospitality, and Leisure.
Residential Plots
Mosque 
Trivillies Smart Villas
Clinic
Commercial
Linear Park
School
One Capital Apartments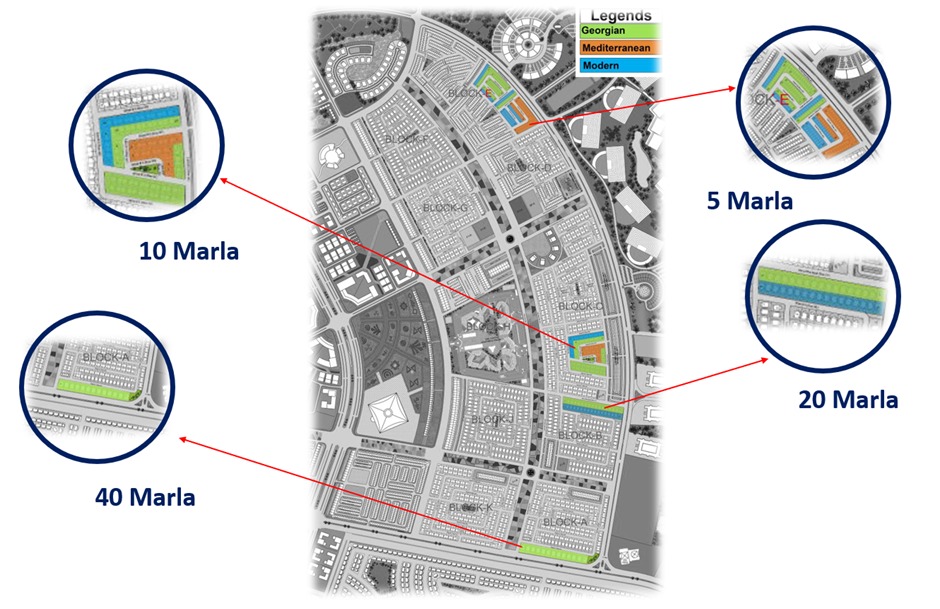 Representing the world-class destination is Overseas Central, located near the center of CSC. It will boost the business and economic activity of the city. The beautiful residential options are just according to the taste of the residents.
Grand Mosque
Residential Plots
Park
School
Mosque 
Mixed Use Building
Linear Park
Apartments
Civic Center
Commercial Buildings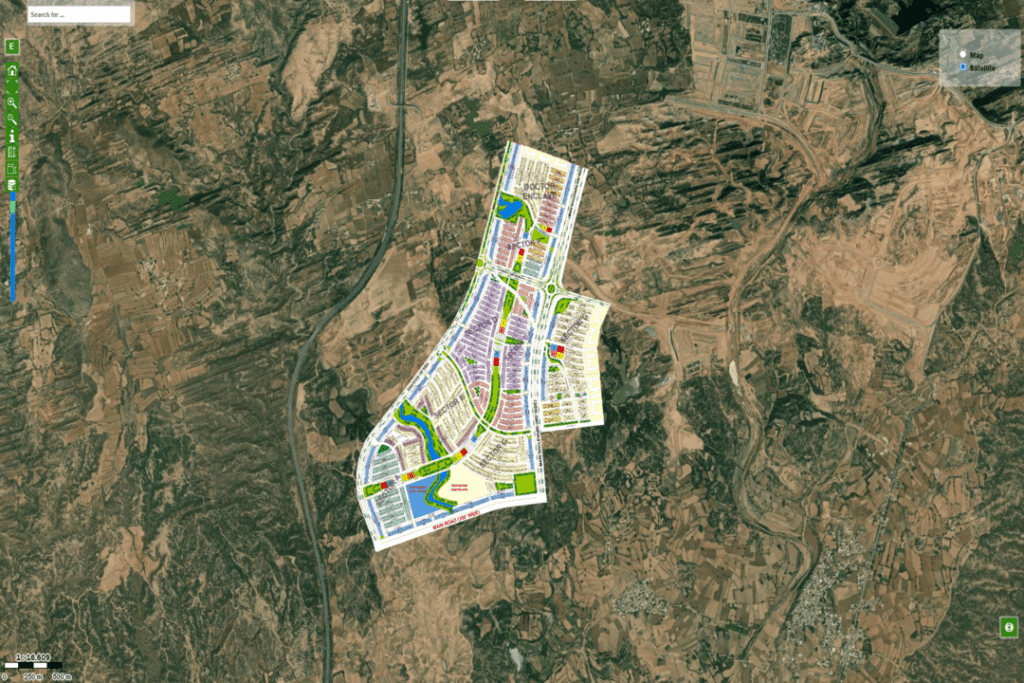 13. Executive District 01
The most significant development in the Capital Smart City is the Executive District. It will have Residential Towers close to the M2 Motorway. With the hill view, the district represents the beauty of nature. The area has become the favorite place for residents to live and work through retail, dining, and outdoor activities. Through the Metro Bus Station, it is connected to the remaining City.
Residential Plots 
Sill River
Mosque
Commercial Neighbourhood
Green Area
Educational Institute 
Community Club
Apartments
Linear Park
Sector Park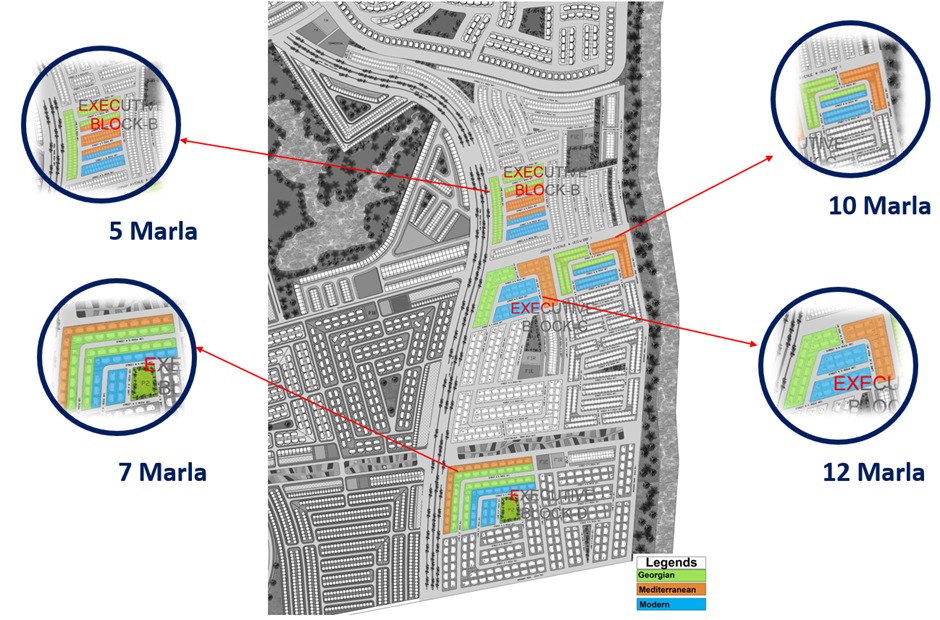 14. Executive District 02 
One of the central districts of Capital Smart City is Executive District 02. It comprises many residential and commercial options with mosques, Educational Institutes, and Park.
Mixed Use Commercial Building
Residential Plots 
Mosque
Educational Institute 
Green Area 
15. Capital Ranches 
The style of Capital Smart City is symbolized by its Capital Ranches. Here the residents will enjoy the scene of the Sill River passing through the center of CSC.
Mixed Use Building 
Park
Clinic
Linear Park
Sill River
Villas 
Educational Institute 
Green Area
Residential Plots 
16. Hill View Heights 
Adjacent to the M2 Motorway with Residential Towers is the District of Hills View Heights, the most significant developmental area in Capital Smart City. The view of hills is the symbolic beauty of this District. It will provide the residents with the facilities of dining, retail and outdoor activities.
Sector Park
Mosque 
Green Area
Residential Towers
Retail Pavilions
Mixed Use Commercial Buildings 
17. Sports District 
Sports District is a wide range area to complement the needs of residents of CSC with a wide range of Sports facilities. It includes a Cricket stadium, tennis court, amusement park, swimming pools, and other facilities.
Cricket Stadium
Sports Retail
Sports Academy
Motor cross Track
Green Area
Tennis Court 
Swimming Pools
Apartments 
F and B Pavilions
Amusement Park
Indoor Arena
Olympics Arena