Top City -A Project of Dynast Associates
At the junction of Motorway 1 and 2 is the elegantly planned housing scheme never seen before, the Top City. Top City is the most attractive investment located close to the New Islamabad Airport. TopCity-1 is a project that from its very beginning is a vision to bring you the unsurpassed living experience. This Housing Society with help you encounter all future challenges and enjoy a modern lifestyle. Top city vows to be the most solid, sumptuous, and magnificent item a Pakistani could manage. The pattern of luxury and present-day way of life has truly killed the earth without graciousness yet TopCity-1 among the wide range of various contemporary lodging plans is the one in particular where extravagance and eco-accommodating climate remain closely connected. The new expansion to Islamabad, TopCity-1, is an exquisitely arranged housing plan. An elite housing society gives you all you have at any point envisioned. It isn't simply a spot a city inside a city vow to convey you the best lodging choice and, in such a manner, TopCity-1 is spending the assets, abilities, and costs to keep up with the extraordinary turn of events and devoted management.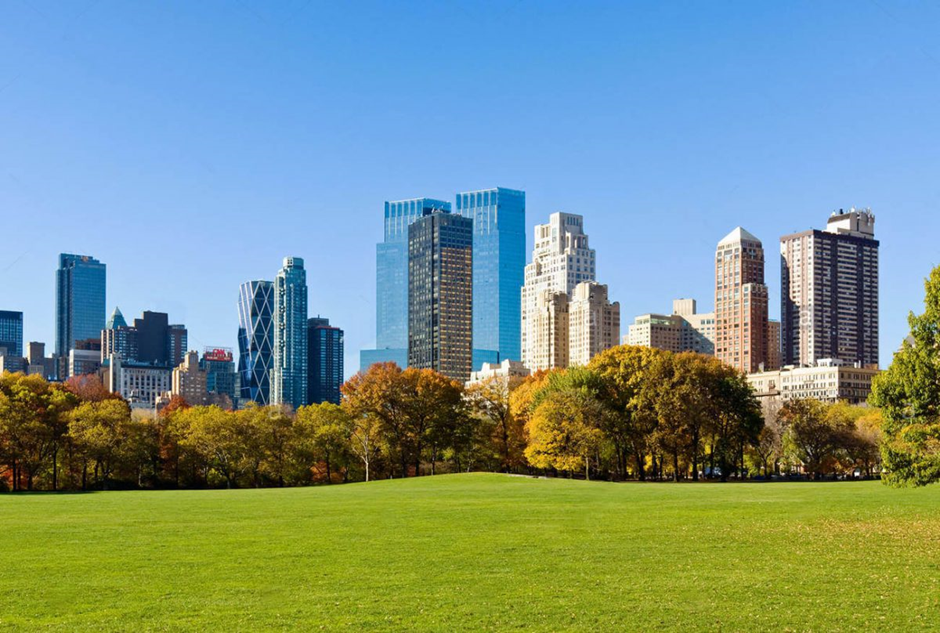 Top City Islamabad Location
Top city Islamabad is presented as a smart global city complimenting its high-profile adjacent housing society Capital Smart City– the First ever Smart City in Pakistan. Top City is located on Kashmir Highway. The housing society has gained much popularity because of its minimal distance from the New Islamabad Airport at M-1 and M-2 motorway intersection. Top City has three important gates H, G, and F blocks of Top City are close to the airport's gates. G Block is the nearest and is taken over by the CAA due to security concerns.
3 km in reference to New Islamabad Airport
40 Km in reference to Zero-point Islamabad
35 Km in reference to Rawalpindi city
22 Km in reference to Fatah Jang city
4 km about CPEC Root
Nearby Schemes -Capital Smart city, University Town, Mumtaz city, and Islamabad Cooperative Housing Society (ICHS Town Islamabad)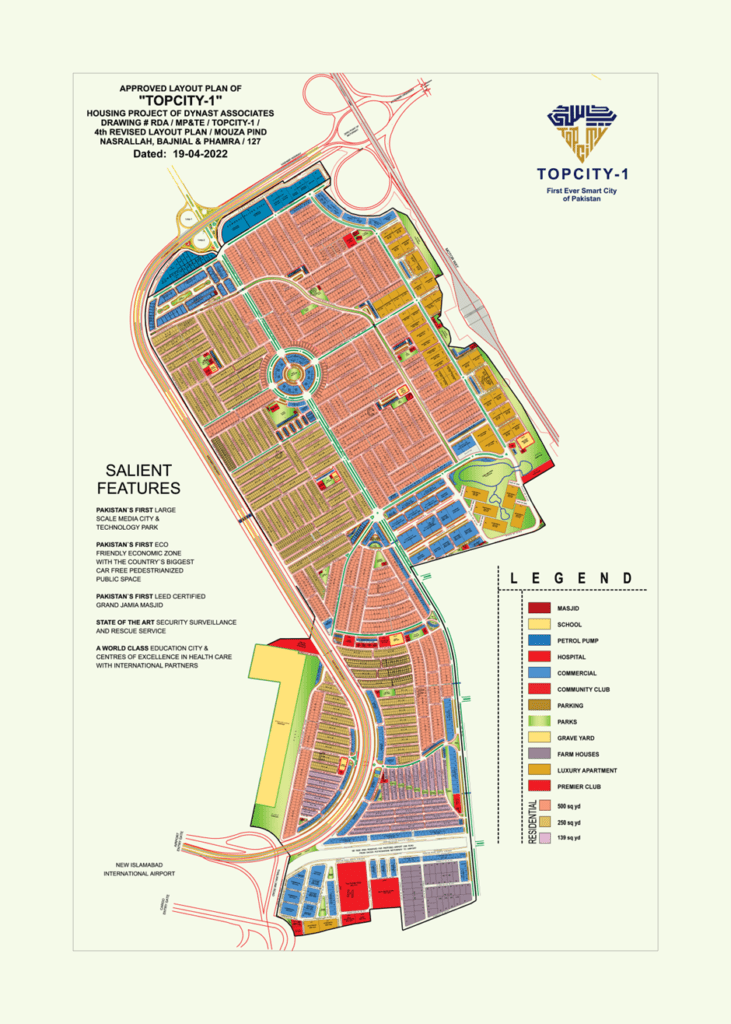 Certifications of the Top City
Top City is an approved society and has NOCs and certifications from the following organizations.
CAA (Civil Aviation Authority)
EPD (Environment Protection Department) Punjab
ICT (Islamabad Capital Territory)
NHA (National Highway Authority)
RDA (Rawalpindi Development Authority)
SNGPL (Sui Northern Gas Pipelines Limited)
Road Access to the Top City
The easiest access route for anyone to access Top City 1 from the Kashmir Highway. The distance of Islamabad Airport from the society is 3 km and Islamabad is about a 10 min drive. Another route to the city is from Fateh Jhang Route.
Development Status of the Top City
Top City-1 is presently an emerging society with about 50% of development work remaining. About 1 Kanal of the residential plot is labeled as Block B and has been allotted. Other Blocks include A, C, D, E, F, and H which are currently under fast expansion. Compared to the neighboring housing societies Top City has better Developmental Status. Builders have employed all the latest technologies accessible to make it the best-isolated housing scheme in this area. Top City-1 has implemented all the latest technologies available today, including fiber optics, smart meters, e-health service, public WIFI, e-government, and smart surveillance systems.
Ownership of plots
With the advancement work finished in the B block of the lodging project the 1 Kanal private plots, have been conceded ownership to their proprietors. Interestingly, the ownership of the leftover blocks of the tasks obstructs A, C, D, E, H, and F will be allowed not long after the sped-up improvement. Creating Top City-1 will likewise be far quicker than adjoining home plans including Blue World City as it utilizes all the freshest advancements that anyone could hope to find to guarantee expedient development work without settling for less on the nature of upgrading.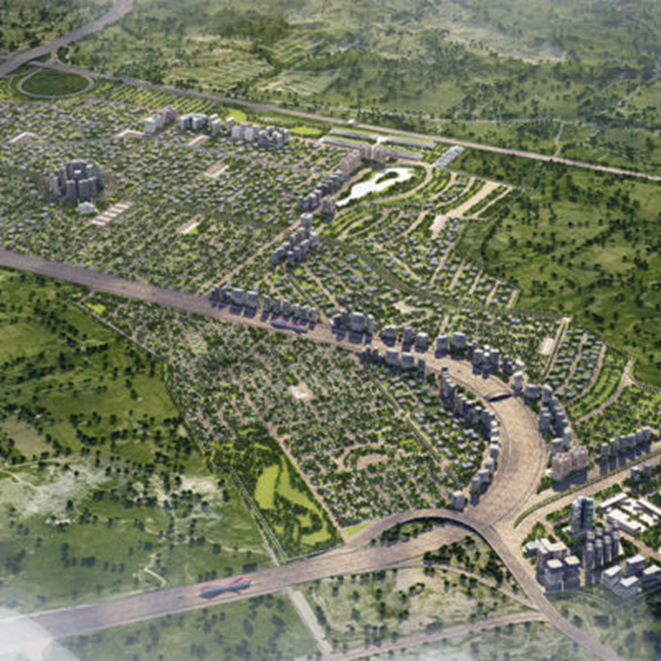 Remarkable Features of the Top City
Here are the most amazing highlights of Top City-1 Islamabad:
• Top City-1 comprises 5906 Kanals of land which is roughly 740 Acres. Accessible plot sizes are 5 Marla, 10 Marla, and 1 Kanal.
• The Society has some regions held for farmhouses with greater plot sizes. A ring street is likewise going through the Farm Houses Area of the venture.
• Top City-1 as of now saves Prime Location land confronting Kashmir thruway for a Five Star Hotel Project which will be sent off.
• The task likewise has some land held for tall structures confronting Lahore Motorway.
• Top City-1 has planned a wastewater treatment plant which is as of now supported. They will involve this treated water for planting reasons inside the undertaking.
A lot more elements like spotless, green, and eco-accommodating climate, present-day improvement norms, greetings tech safety efforts, arrangement of all living conveniences, and so on, put aside from the adjoining projects.
Important Features of Top City
Like Every Housing Society, Top City is also embellished with certain features to make it comfortable for residents to enjoy their living experience here. Some of these features are
Commercial Area
Theme Park
Cinema
Hospital
Universities
Parks And Play Areas
Mosque
Play Land for Kids
Stand By Generators
College
School
TV Cable
Gas And Water Availability
Garden
24 Hours security
Family Park
Graveyard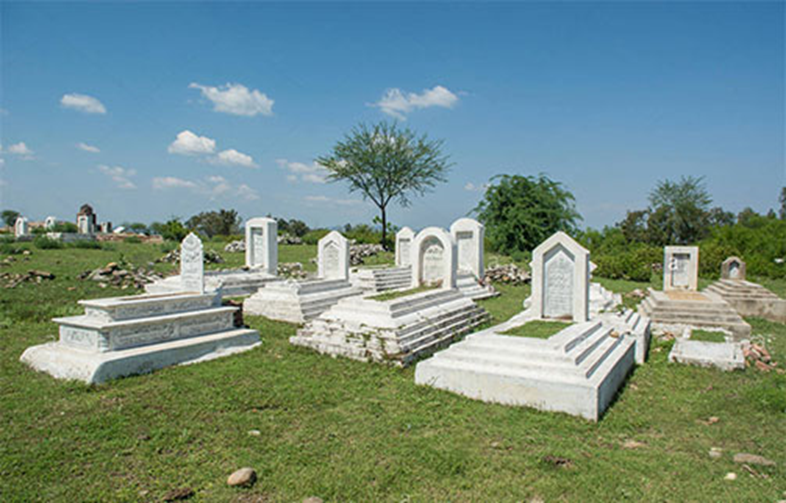 Reasons to Invest in Top City
TopCity-1, Rawalpindi is an extraordinary opportunity for financial backers as land costs in the Society will increment outstandingly after the development work is finished. Block An and Block B, specifically, will increment popularity since they are the most-looked through locales taking shape. In this manner, individuals needing a high ROI ought to consider both of these blocks while looking for venture potential open doors in Top City. Moreover, the housing project is an astounding spot to make your fantasy home, after the belonging, you will be allowed to begin the development communication. Every one of the modern elements and offices given in the housing adventure will guarantee an agreeable and lavish living in the most ideal spot of the city. The eco-accommodating climate likewise gives a sound and safe climate for your kids. Top City Islamabad is a blend of the best areas. RDA supports a lawful housing society and guarantees safe ventures for its inhabitants. The development work is progressing at a high speed and the private and business property rates are essentially expanding. The assortment of standard size plots is likewise an or more reason behind putting resources into the Society as every one of the sizes is effectively tradable and is helpfully exchanged if necessary. This multitude of elements is joined to make this housing project an optimal spot to live, work and appreciate life to your fullest.
Conclusion
In spite of having the best area, Top City-1 has not yet had the option to meet its true capacity because of forthcoming access from the Kashmir Highway. In any case, the general public is effectively dealing with improvement work across various blocks and it is normal to ascend exceptionally high with a solid supervisory group of Dynast Associates. It is one of the most amazing speculations and valuable open doors for individuals who are hoping to assemble their homes around here. The area of the Top City-1 is great assuming that this development was arranged somewhere else, it might not have had the option to become one of the top interests in Islamabad. The general public is very much agreed and has every one of the highlights to give a splendid future to its occupants, then we suggest this housing try for a drawn-out growth strategy or even a short to medium term venture an exposed door.