Faisal Hills -A Project by Zedem International
Faisal Hills is a housing project started by Zedem International. Faisal Hills is situated on the main Grand Trunk (G.T.) Road N-5 in the Taxila area of Rawalpindi. The project is planned for over 30,000 kanals of land alongside the gorgeous Margalla Hills. Faisal Hills was launched as a society in 2006 and has been going under further development since then. The project is famous for its extensive plan, and comfortable, relaxed, and extravagant lifestyle. Faisal Hills is embellished with the latest recreational and modern living facilities. The society has a lovely location and is encircled by natural beauty with a mesmerizing view of Margalla Hills.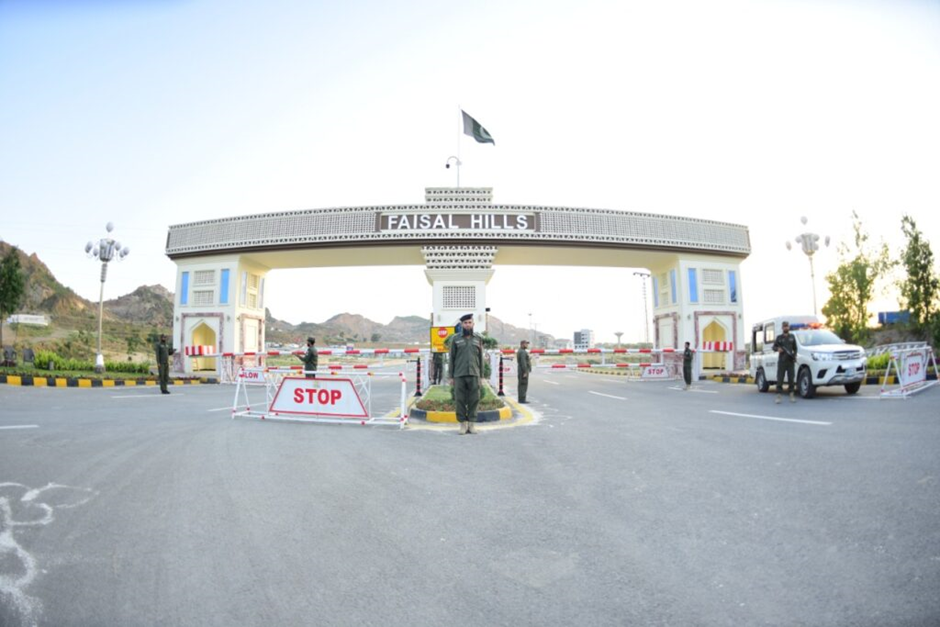 Location of Faisal Hill
Faisal Hills is located at an ideal and easily accessible location in twin cities. It is at a premium location on the main G.T. road and MPCHS sector Islamabad. Faisal Hills is located precisely at N-5 National Highway Islamabad. The site of this housing scheme is surrounded by beautiful and magnificent sights of Margalla Hills. One of the appealing location benefits of this society is that it is away from the hustle and bustle of crowded places. The immediate accessibility from N-5 National Highway and the Taxila region adds up to the profit margins of this society.
In terms of convenience, this residential scheme is quite distinguished. The approachability of Faisal town Islamabad from some important milestones of the twin cities is as follows:
Almost 5 min drive away from N-125
Almost 19 min drive away from M-1 Motorway
Almost 5 min drive away from Quaid Avenue
Almost 21 min drive away from Kohat Road Rawalpindi
Almost 22 min drive away from Srinagar Highway
Almost 5 min drive away from Wah Cantt
Almost 10 min drive away from Tarnol Mor
Almost 2 min drive away from B-17, Islamabad
Shortly, this society will be connected with major highways of the city like the M-2 Motorway and the upcoming Margalla Avenue, which will complement a worth to the location benefits of this society.
NOC Status of Faisal Hills
Faisal Hills NOC has been permitted by Rawalpindi Development Authority (RDA). The grant of the No Objection Certificate plays a vital share in fast progress, quick accomplishment, and opportune distribution. The developers and owners of Faisal Hills society have gained all required consent to carry out the development process. It has yet to be approved by RDA.
Developer Of Faisal Hills
Faisal Hills is a housing project of Zedem International. The company is a reputable and reliable firm registered with the Securities and Exchange Commission of Pakistan (SECP). Zedem International has done many projects some of which are as follows.
Faisal town (FT)
Faisal Villas (FV)
Sea Square
Faisal Margalla City (FMC)
Faisal Residencia (F.R.)
Zedem International is to deliver an excellent life at an affordable cost and on-time delivery of projects to their clients.
Executive Block
The Executive Block in conjunction with Margalla Hills with straight access from main G.T. Road.This block is in closeness to Taxila City, Museums, and all of its settings. Executive Block also offers huge high-rise developments covering residential apartments, schools, shopping malls, and offices.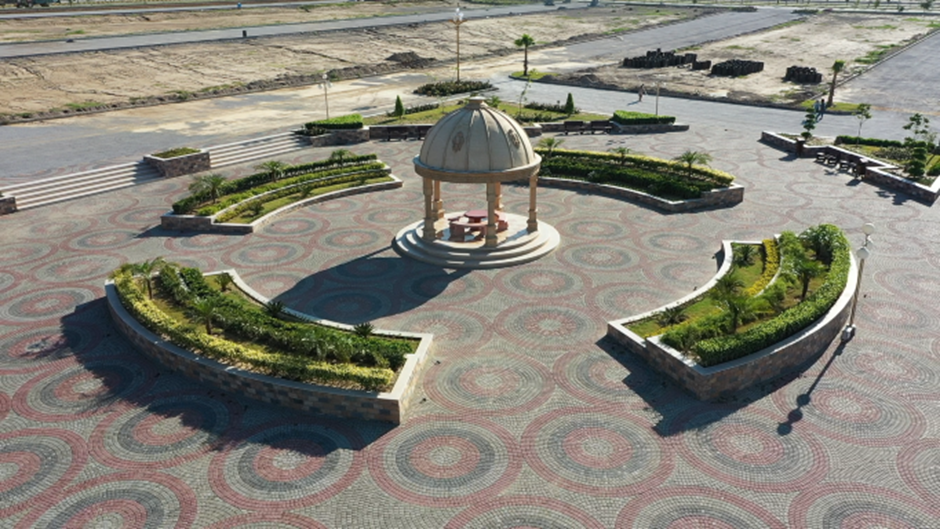 Block A
Faisal Town Pvt. Ltd came up with a lively layout plan that is united and close yet detached and defined for the diverse plot sizes. While A Block has previously been sold out, this block suggests some thrilling structures like the main boulevard of 225″ feet and the dominant Commercial hub of the society for its residents as well as investors. Most significantly, this block's development ideals and preparation are as per modern development standards. Minimum street sizes are 40 feet and up to 110 feet in and around this sector for convenient access to all amenities.
Block B
Block B includes lovely plush green parks and gardens that offer residents with a shared assembly place and an orchard with spectacular views of the nearby Margalla Hills.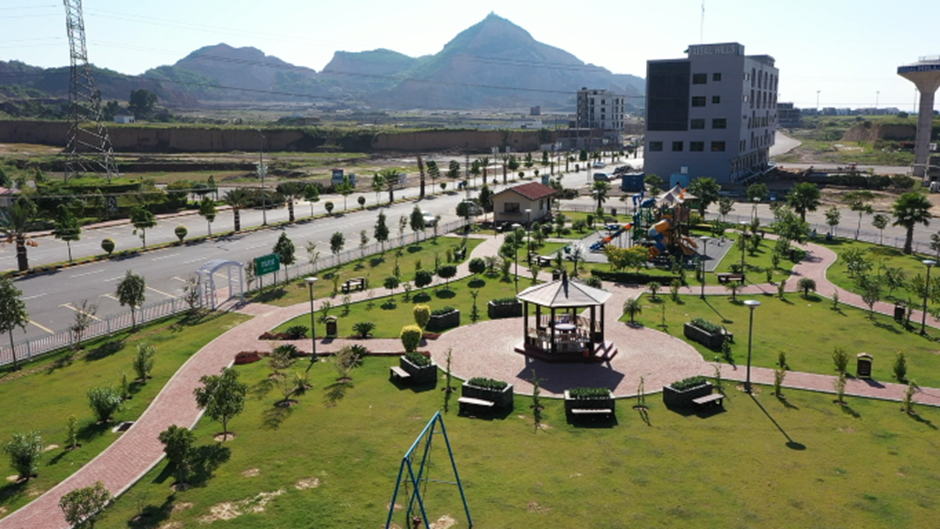 Block C
Block C area has arisen as the area's most looked-for extravagant residential site in the primary housing real estate market. Luxury possessions propose carefree sights of Nearby Margalla Hills and strategic future access to the CPEC route through the M-1 Motorways.
Installment and Payment Plan for Faisal Hills
Faisal Hills Taxila is one of the noble cultures of Islamabad. As it is located at a premium location and offers all top-notch amenities, the Faisal Hills Payment Plan has been planned therefore. Originally, the prices of plots in this housing scheme were kept nominal, but after the high demand for plots, concerned authorities have revised the Faisal Hills Payment Plans to meet the market price.
The plot prices in Faisal Hills Taxila can differ from block to block. The investors can get a plot in this society on cash payment and installment. Faisal Hills Payment Plan is spread over 3.5 years, and the bookings of the plot can be made with a 10,000 registration amount and 10% down payment as per the original cost of that particular plot. As per Faisal Hills Installment Plan, investors must clear the remaining amount in 14 quarterly installments.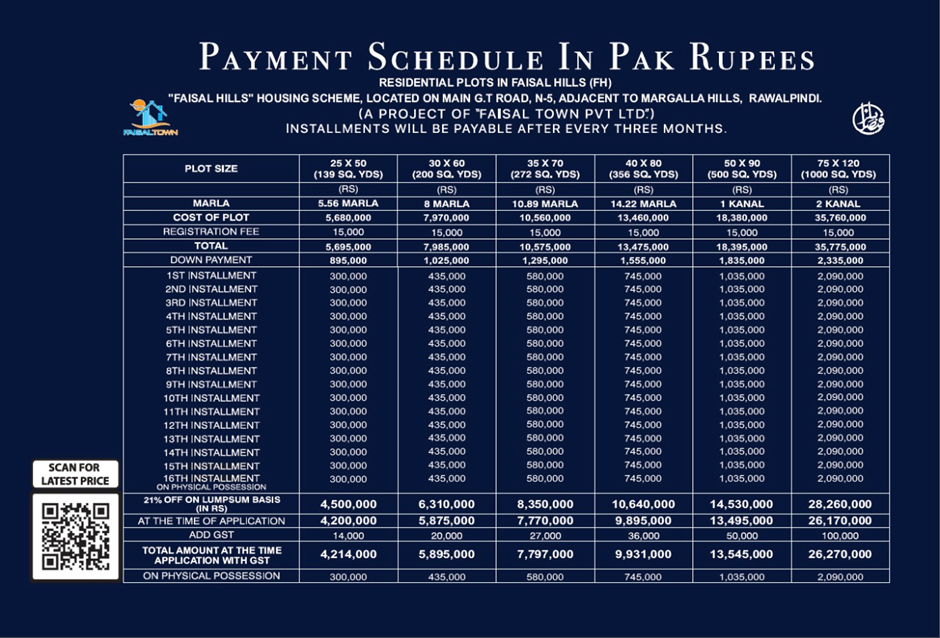 Facilities in Faisal Hills
Some of the notable features that the authorities of Faisal Hills have promised are:
24/7 Security
Educational Institutes
Commercial Areas
Cricket and Football Grounds
Sports Complex
Parks
Banks
Underground electrification
Sui gas availability
Sewerage disposal station
Wide roads and streets
Beautiful Mosques
Community centers
Underground water tanks
Shopping centers
Layout plan
The area of this society is divided into Four Blocks, namely
Executive Block
A Block
B Block
C Block
Conclusion
Faisal Hills is one of Islamabad's topmost sheering housing schemes. The explanation is affordability and the finest development ideals. As it will link with Motorway M-2 and come to be easier entree from Islamabad Zone-1 over the Margalla Avenue project, the upcoming potential of this housing project is much higher. Owing to its nearness and connectivity with Sector B-17 MPCHS, it turns out to be a well substitute for individuals who cannot pay for a house in Multi Gardens or Faisal Margalla City. Presume you have been looking for a decent investment opportunity or an improved housing opportunity in the neighborhood of Capital City. In that case, we mention Faisal Hills Housing Scheme as one of the best options.