Capital Smart City – Pakistan's First Self-Sustaining Smart Community
Introduction:
Capital Smart City is the master project of this century in Pakistan. This state of art project will be the First Smart City in Pakistan and the Fourth One in Asia. Launched on 6th October 2019, it is becoming one of Pakistan's most popular housing societies as it takes the living experience to the next level. The vision of Capital Smart City revolves around detailed Urban Management, which will promote efficiency, mobility, and Growth in Urban Sector. Enjoy the place, which is a dream for others. After the Successful launch of the top Smart Cities in New York, Amsterdam, Singapore, Dubai, Hong Kong, Barcelona, and London, the plan is to transform the capital of Pakistan, Islamabad.
Capital Smart City Location:
The Capital Smart City Islamabad (CSCI) is located in the Rawalpindi Region of Islamabad and is a 5 minutes drive from the New Islamabad Airport. Capital Smart City is Located Between the M2 Motorway and Chakri Road in Rawalpindi. The Project is about 40km from Zero Point at Lahore-Islamabad Motorway at a distance of 9.2 km from M-2 Toll Plaza near the Thalian interchange. It falls on the eastern route of CPEC. When traveling from Rawalpindi, CSCI is about 5.5km away from Ring Road and 26km from Saddar.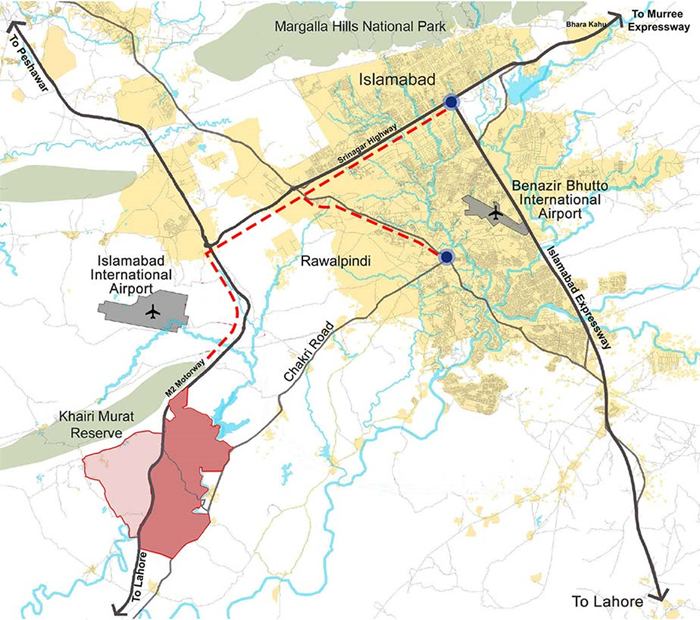 Access Points to the CSCI: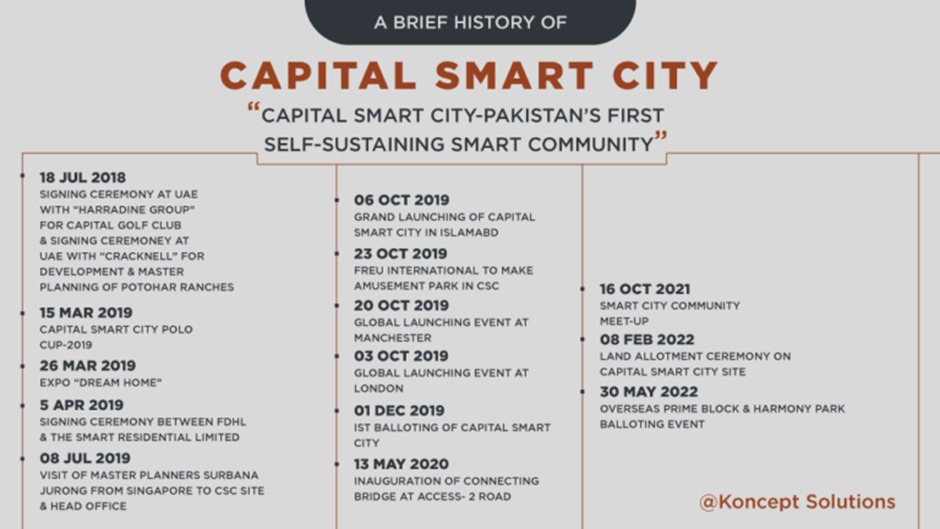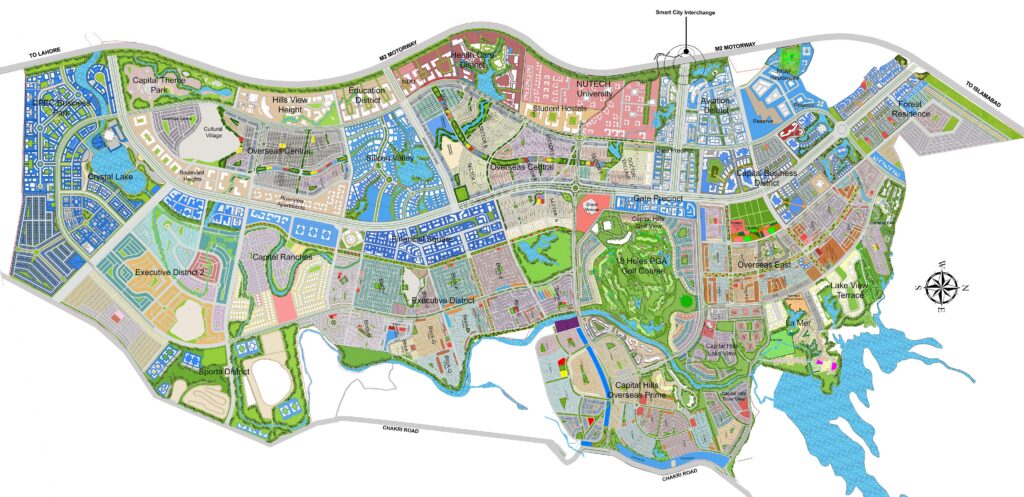 Capital Smart City Total Area:
Capital Smart society is now covering an area of 1 Lakh Kanal, starting with a total land of 55,000 Kanal. In August 2019, authorities submitted the request for an extension of the land. After the approval of the extension in June 2020, the land of Capital Smart City was equal to 80,000 Kanal. Considering that it will be the most significant housing society in the country, CSCI is ten times bigger than its neighboring Societies. The layout of the master plan given by Society at this moment is Approved by RDA, and the NOC has also been approved.

Project Partners of Capital Smart City
Capital Smart City Islamabad is planned with a joint partnership between Habib Rafiq (Pvt)and Future Holdings Developments. Habib Rafiq (Pvt), also the pioneer of this Project, is a well-known name in the real estate industry in Pakistan. Habib Rafiq (Pvt) are developerBahria and DHA in Islamabad. They have also successfully executed their housing societies in Sargodha, Multan, and Sahiwal by the name of
Royal Orchard Sargodha
Royal Orchard Multan
Royal Orchard Sahiwal
Habib Rafiq (Pvt) -The Builder of CSCI
Habib Rafiq Group has been the most renowned name of Real Estate in Pakistan and the World for the last 50 years. Habib Rafiq Group is known for its devotion and dedication to fulfilling customer requirements synonymous with quality and professionalism. The Group has prided itself on earning its ISO 9000 certification by constructing many prestigious construction and engineering projects in Pakistan. Even though the company has been in business for the Past Five Decades, it has earned its true respect and recognition in the market in the last 15 years after its trend-setting accomplishments. 
HRL has transformed Real Estate in Pakistan through its invaluable engineering contributions through its idea of housing and infrastructure development. Their projects mainly focus on building houses, road infrastructure construction, electrical work, mechanical work, water tanks, and gas pipelines. They are the top Housing Society Developers in Pakistan.
HRL has successfully retained the equilibrium and closed jobs of high engineering and financial value. They stand tall and firm over the strong foundation of reputation and trust. Habib Rafiq has a distinctive edge over all other developers in the market because of their electromechanical resources. Since 1962, Habib Rafiq (Pvt) Limited has come a long way to represent dedication, recognition, and professional Excellence by meeting the client's strict, pressing, and extraordinary work requirements.
Main areas of Services:
Future Developments Holdings Private Limited (FDHL)
FDHL is an official builder partner in the Project of Capital Smart City. Future Developments Holdings Private Limited was registered under Companies Ordinance 1984. Since then, many construction and Real estate companies have become part of FDHL to create the world's leading organization. The core principles of FDHL are integrity, honor, and commitment. At Future Developments Holdings Private Limited (FDHL), they ensure that their team precisely follows their code of ethics and honors their commitments.
FDHL combines China Liaoning International Economic and Technical Cooperation Group Corporation Ltd (CLIC) and Engineering Dimensions (Pvt.) Limited (EDL) – two of the leading companies with expertise in leadership and technical skills. They aim to deliver the best in the real estate sector in Pakistan. Their team and sponsors have years of experience in construction and development. They have successfully provided some of Pakistan's best and most renowned projects. Working with Habib Rafiq (Pvt) Limited, they have planned to develop two state-of-the-art residential zones and a modern industrial zone of Capital Smart City on the vital M2/CPEC route to cater to the demand of Pakistan's flourishing industrial sector.
Surbana Jurong Group -The Master Planner of CSCI
Surbana Jurong Group is a Singapore-based service consulting firm. The company has delivered many projects related to global urban infrastructure in the past 70 years. Surbana Jurong has a global talent pool of 16,000 with partners like AETOS, Atelier Ten, B+H, KTP, Prostruct, RBG, SAA, Sino-Sun, and SMEC. They have more than 120 offices in over 40 countries. Surbana Jurong Group provides architecture, designing, planning, and engineering services. The team has professionals guided by open-minded thinking and creative ideas to help shape a more promising future. Surbana's technical specialists produce sustainable resolutions covering the Project's life cycle, from planning and design to delivery and management, execution, and finishing. They provide a full suite of multidisciplinary consultancy services across various sectors like energy, resources, aviation, healthcare, hospitality, transport, water, and the environment. They are prided on building more than a million homes in Singapore. The Group has created master plans in over 60 countries and developed over 100 industrial parks globally.
Their other projects in Pakistan include:
Reko Diq Mine-Concept & Feasibility Studies
Contract Advisory, Engineering & Specialist Services
Pakistan Petroleum Limited Call-out Services
Construction Management, Engineering & Specialist Services
Surbana Jurong goes with the mission of Building Cities to Shape Lives. They take every Project as an opportunity to fulfill aspirations and improve lives. Surbana Group will play its part in Capital Smart City by designing and delivering quality housing, workspaces, roads, rail, hydropower, dams, underground and coastal protections, and other critical infrastructure their clients need. They will redefine the capital city and transform it into a sustainable and liveable space where residents and companies, present and future, can prosper.
Unique Features of Capital Smart City
Capital Smart City is going to be the first smart City in Pakistan. It will offer its residents a remarkable and stylish living experience to appreciate because of its extraordinary features. CSCI society will incorporate advanced technology and smart features. Here is a list of the unique features of CSCI:
Eco-Friendly City
Advanced Security
Green and Clean environment
Innovative and contemporary Housing plan
World Class infrastructure
Overseas block
Mosques, Parks, lakes
Recreational Activities
18-Hole Golf Course
Metro bus system
Subterranean Electricity
24/7 Water, gas & electricity
Smart apps, i.e., traffic, weather, electricity, internet
Hotels, Shopping centers, and Sports clubs
Moven Pick hotels & Resorts
Established interchange from M-2
Nearness to Islamabad and Rawalpindi
Sizes of Roads in Capital Smart City
The minimum size of the road is 40 feet.
The width of Central Boulevard is 400 feet.
Other Main Roads are 180 feet, 150 feet, 120 feet, 100 feet, and 80 feet.
Facilities in Capital Smart City
The Capital Smart City seeks to encourage and design strategic development in the area and attract future investments. The idea of a Smart City is to achieve a smart radial growth pattern considering the significant facilities and services incorporated to maximize efficiency in the lives of its residents. The Society revolves around the mission of Excellent Connectivity, Creative Innovation, Wisdom, and Heritage, Cultivating Community, and Integrating Lifestyle.
Facilities in Capital Smart City
The primary vital factors presented in the housing society are detailed as follows, along with their features stated by the Capital Smart City:
1. Executive Block
Residential Plots
Residential Villas
Hospitality
Retail
Food and Beverages
Health Care
Education
Religion
2. Hill Vista
Residential Plots
Residential Villas
Golf Farmhouses
Retail
Food & Beverages
Golf Club House
Community Club
18 Hole Golf Course
Golf Academy
3. PANDA District
Shopping Mall
Light and Music
City Walk
Hospitality, Retail, Food, and Beverages
Mixed Use
Residence, Apartments, and Offices
4. Crystal Lake
Shopping Mall
Crystal Water Lake
Floating Village
Light & Musical Dancing Fountain
Hospitality, Retail, Food & Beverages
Mixed Use Residence Apartments & Offices
Concert Arena
3D Max Cinema
Star Hotel
5. Financial Square
Financial Square Gate Offices
Bank Corporate Offices
Residence Apartments
Conference/Exhibition Halls
Hospitality, Food & Beverages
5-Star Boutique Hotels
6. Aviation Village
Logistics Warehouses
Cold Storage Warehouses
Exhibition Halls
Logistics Corporate Office
Operational Technology Offices
Hospitality, Food & Beverages
3 Star Hotels
7. Holiday Parks
Street Food Truck Park
Bird Park
Theme Park
Holiday Resort
Retail
Food & Beverages
8. Healthcare Facility
Hospitals
Clinics
Laboratories
9. Education City
Universities
Medical Colleges
Schools
Day Care Centers
10. Overseas District
Residential Plots
Residential Villas
Residential Mansions
Hospitality
Retail
Food & Beverages
Health Care
Education
Mosque
Admin Building
Linear Park
11. Mosques
Main Mosque (Grand Jamia Mosque)
Sector Mosque Park
12. BRT System
Interchange
Bus & Public Transport Stations
Operation & Maintenance Facilities
Bus Lines
Integrated Metro Bus System
13. Urban Utilities
Street Food Truck Park
Grid Station
Solar Parks
Potable Water Treatment Plant
Police Station
Sewerage Treatment Plant
Irrigation System
Security Control
Fire Fighting/Civil Defence System
Solid Waste Management System
14. Infrastructure
Dedicated Interchange
400 ft Wide Central Boulevard (18 Lanes)
Road Network
Gate Entries
Boundary Wall
Landscaping
Street Light
Running Tracks
Cycle Tracks
15. Smart City Facilities
Load Shedding Free Environment
Automated Traffic Control
Automated Utility Supply
Environmental Collection
CCTV with Facial & Object Recognition
Automated Street Lights
Free Wi-Fi Spots
Automated Air Conditioning Control System
Electric Bikes
16. Garden Parks
Flower Gardens
Linear Gardens
Heritage Gardens
17. FDH Buildings
Sales Gallery
Facility Management
Food & Beverages
Hospitality
Districts of Capital Smart City
Capital Smart City is further divided into separate districts. Based on these Districts, the land is distributed and allotted. All Districts of Capital Smart City are as follows.
1. Gate Precinct District
Grand Gate Precinct is the entrance to Capital Smart City. Many luxurious world-class hotels and vistas are located here to give the entrance a grandeur appearance. This District has high-end residential and mixed-use buildings. Residents can access Capital Hills Golf Club through the Gate Precinct.
It has the following buildings
Offices
Mosque
5-Star Hotels
3-Star Hotels
Recreational Parks
Service Apartments
Commercial/Retail
Pavilions-200 Outlets
Educational Institutes
Apartments /Mixed-use Buildings
2. Aviation District
Aviation District is specially designed to be at the center of multidisciplinary projects. Located Near New Islamabad Airport, this District is a zone that caters to logistics for the Aviation Industry. It is further composed of Aviation Academy, Iconic Expo Center, Museum, Aeronautical Gallery, and Technology Park. It is designed as the Perfect spot for a Shopping spree and modern malls.
It further includes
Mall
Mosque
3-Star
Expo Center
Flight Kitchen
Airline Services
Technology Park
Business District
Aviation Academy
Recreational Park
Mix Use Building
Research and Development
Food and Beverages
Residential Apartments
3. Crystal Lake District
Crystal Lake is going to add extraordinary style to the Capital Smart City. This modern District will be a fusion of Fashion, Food, Arts, unique Architecture, stylish Interiors, and Luxury. Its amusements and experiences will be the City's leisure destination. The Residents of Crystal Lake District will be surrounded by dancing Fountains, Lake Walks, Featured Cafes, High-end retail, and Hotels. The IT, Silicon Valley, and Media Hub in Crystal Lake will bring advancement to the region. Silicon Valley Pakistan will accommodate more than 100,000 IT skilled workers.
Offices
Mosques
Apartments
Sales Gallery
Jamia Mosque
Lake Side Walk
High-end Hotels
Command and Control Center
Waterfront Shopping and Retail
Light and Musical Dancing Fountain
4. Boulevard Heights District
To support the Economic and Business activity of the Financial Square, the Capital smart city will have a community-based area called Boulevard Heights. Here the pavilions will share the global business providing residents with a vibrant and creative environment. This community will be a safe and fun place for all with its public parks, facilities, green space, and retails. All of the areas will be connected with the Metro Bus System.
Mosque
Pavilions
5- Star Hotel
Mixed-Use Buildings
Residential Apartments
5. Financial Square District
Capital Smart City will have the largest Financial Center in the region, called Financial Square. It will have Qatar and Pakistan Financial Center and CPEC tower. Financial Square will create many trade and business opportunities.
With 2 Metro Bus stations, it is 5 minutes drive from the New Islamabad International Airport. Designated Rotary Pedestrian bridge will provide safe traveling for pedestrians. Financial Square is embellished with a mall for the entertainment of residents.
Offices
Linear Parks
Jamia Mosque
Financial Towers
High-End Hotels
Corporate Offices
Conference /Exhibition Halls
Hospitality, Food, and Beverages
Pakistan International Finance Center (PIFC)
6. Educational District
This area is reserved for educational activities. National Defence University has already signed an agreement to open up its branch. Although each residential block will have its local schools and institutions, this district is solely meant for this purpose.
First Smart School for OSC Children" by CSC & ALIGHT
The first Smart School for OSC (Out of School) Children is now in progress at Capital Smart City. Capital Smart City achieves another social responsibility goal. Mr. Zahid Rafiq, Chairman FDHL, and Dr. Tariq Cheema, CEO ALIGHT, have signed an agreement to build the first Smart School for OSC (Out of School Children).
Under the supervision and direction of world-renowned British-Iraqi architect Zaha Hadeed, the school will be built and operated by "Alight" Design at Capital Smart City.
National University of Technology (NUTECH) and Capital Smart City (CSC), Islamabad, joined hands to develop and operationalize an innovative futuristic campus of Technology University of International Standards in CSC.
An Agreement signing ceremony between NUTECH and FDHL (CSC) was held on 23 July 2020 at the NUTECH campus. As per the Agreement, CSC shall be a pivotal partner to support NUTECH in the allotment of land for NuTech's main campus and subsidize necessary support services for its operations. On this occasion, Rector NUTECH Lt Gen (R) Khalid Asghar and Pro-Rector Maj Gen Khalid Javed congratulated Mr. Zahid Rafiq, the Chairman of CSC, and his team. This partnership will promote higher education in the realm of creation, promotion, transfer, and implementation of indigenous technologies and help solve problems of our industries by way of R&D and meeting their HR requirements in terms of young engineers, technologists, and skilled workforce. The ultimate shared goal of this joint venture is to enhance Pakistan's industrial growth and economy. NUTECH Main Campus shall help achieve its Vision and Mission of producing entrepreneurs and industrial leaders of Character in the coming years.
NUTECH Campus in Capital Smart City will be the largest Technological University in the region, hosting +35,000 students.
6.HealthCare District
To promote a Healthy living Style, Capital Smart City is launching the hub of Excellence, HealthCare District. The district will be supplied with the latest equipment and machinery under the supervision of technical staff. Special consideration is taken for timely and accurate diagnostics. Laboratories are supplied with the best technological advancement to equip them with proper Diagnostic Procedures.
MRI
Dr. Saeed Akhtar and Partners have planned to establish a World Class first ever Smart International Medical Research Institute in the Health District of Capital Smart City, Islamabad.
For this purpose, Chairman FDHL Mr. Zahid Rafiq has Donated 500 Kanal of land free of cost to IMRI. It will host a multidisciplinary hospital initially 20 beds including a medical college, nursing school, smart research center etc.
On April 6th, 2021 a Contract Signing and Ground Breaking Ceremony was held at Capital Smart City Project Site. Dr. Saeed Akhtar during his address, explained the core values for a strong foundation of the Institute;
Infrastructure, Human Resource, System, Will, Vision, and Ambition.
FDHL
German Hospital
Pink Ribbon Hospital
Margala BDS Hospital
Harley Brain and Spine Clinic
Proposed Location for Agha Khan Hospital
7. Lake View Terrace District
Lake View Terrace is one of the most awaited areas of Capital Smart City. With its scenic views and waterfront, it is going to mesmerize the residents. Lake View Terrace has a serene and peaceful walking area, lovely boat rides, and interesting cafes with incredible vistas. It is easily accessible to the residents of the Society. Residents of this District can enjoy the life-changing experience of watching dawn and dusk.
Garden
Gandhara Art Museum
Terrace Apartments
Community Club
Central Park
Lake View Villas
Villa Apartments
Beach Front Cafes
Lagoon
8. LA MER District
LA MER District is a retail, Hospitality, and entertainment area. This area is close to the lake giving it a fantastic atmosphere. It is a genuinely integrated area by the side of the f capital hills. The plan is that it will be a popular destination for fine dining, restaurants, coffee shops, and street-style food stalls. It is surrounded on three sides by the lake.
Zoo
Marina
Parking
City Walk
3-Star Hotel
4-Star Hotel
5- Star Hotel
Community Park
Open Air Theatre
Leisure and Entertainment
Islamabad Design District (IDD)
9. Capital Hills- Golf and Country Club District
Capital Hills is the Extravagant zone of CSC. It is designed for recreational purposes. The golf course will attract a lot of community. Capital Hills will have the best development style, including building and landscape. Capital Hill Villas are in a peaceful location with the best quality services. Islamabad's first True-hill's style 18 Holes PGA Standard Signature Golf Course. It will contour terrain, challenging golfers.
The 18-hole golf course is going to become the 1stever signature Golf Course in Pakistan. Capital Golf Club Features Golf Academy, a driving course, and a practice putting green. Moreover, in Pakistan, golf is not much talked about. Hence this will be a golden opportunity for Golf Lovers in Pakistan. Furthermore, the construction of work was likely to complete at the start of 2020.
Grid Station
Banquet Hall
Golf Villa South
Golf Villa North
Downtown Capital
Golf and Leisure Club
Jamia Mosque
Lake View Apartment
Goff Maintenance Building
Sunflower Villas Neighbourhood
18 Holes PGA Standard Signature Golf Course
10.OverSeas East
Located in the center of Capital Smart City is the Overseas East District. This District will be the epitome of a world-class destination for its residents. It will attract business and economic activity because of its nearness to the Financial Square. The district is Designed with different residential options to fulfill the needs of the inhabitants of Capital Smart City. Services here include retail, hospitality, and Leisure.
Residential Plots
Mosque
Clinic
School
Linear Park
Trivillies Smart Villas
Commercial
One Capital Apartments
11.OverSeas Central
Representing the world-class destination is Overseas Central, located near the center of CSC. It will boost the business and economic activity of the city. The beautiful residential options are just according to the taste of the residents.
Grand Mosque
Residential Plots
Park
Commercial Buildings
Civic Center
School
Mosque
Mixed Use Building
Linear Park
12. Executive District 01
The most significant development in the Capital Smart City is the Executive District. It will have Residential Towers close to the M2 Motorway. With the hill view, the district represents the beauty of nature. The area has become the favorite place for residents to live and work through retail, dining, and outdoor activities. Through the Metro Bus Station, it is connected to the remaining City.
Sill River
Mosque
Commercial Neighbourhood
Residential Plots
Green Area
Sector Park
Linear Park
Apartments
Educational Institute
Community Club
13. Executive District 02
One of the central districts of Capital Smart City is Executive District 02. It comprises many residential and commercial options with mosques, Educational Institutes, and Park.
Educational Institute
Green Area
Mixed Use Commercial Building
Mosque
Residential Plots
14. Capital Ranches
The style of Capital Smart City is symbolized by its Capital Ranches. Here the residents will enjoy the scene of the Sill River passing through the center of CSC.
Park
Clinic
Villas
Mixed Use Building
Sill River
Green Area
Residential Plots
Educational Institute
15. Hill View Heights
Adjacent to the M2 Motorway with Residential Towers is the District of Hills View Heights, the most significant developmental area in Capital Smart City. The view of hills is the symbolic beauty of this District. It will provide the residents with the facilities of dining, retail and outdoor activities.
Green Area
Sector Park
Mosque
Retail Pavilions
Residential Towers
Mixed Use Commercial Buildings
16. Sports District
Sports District is a wide range area to complement the needs of residents of CSC with a wide range of Sports facilities. It includes a Cricket stadium, tennis court, amusement park, swimming pools, and other facilities.
Sports Academy
Sports Retail
Cricket Stadium
Green Area
Olympics Arena
Indoor Arena
Amusement Park
F and B Pavilions
Swimming Pools
Apartments
Tennis Court
Motor cross Track
17. Capital Theme Park District
Capital Theme Park is exclusively Designed to cater to the needs of Leisure and entertainment of the residents. It will provide the residents with a Smart Lifestyle. The Theme Park is lavish with indoor and outdoor rides like Disney Indoor Theme Ride Area and many others. One plus is the lake boating service in the park. Like every park, it has spots to provide food and beverages.
Rides
Boating Lake
Dino Dome
Disney Indoor Theme Rides
Entertainment, Food, and Beverages
18. CPEC Business Park District
Acknowledging the importance of CPEC, Capital Smart City will have an entire district to handle the business coming through the CPEC. Business Park will encourage all businesses coming from both national and international platforms. The district will also have a Technology Park to serve the tech-related community. F and B and Waterfront Shopping Area will also be part of this District.
Mosque
Business Park
Technology Park
Residential Area
Hospitality, Food, and Beverages
Waterfront Shopping and Retail
19. Silicon Valley District
Silicon Valley is the technology and business hub of Capital Smart City. It is designed with fantastic architecture. The core of business in CSC is in the Business Park of Silicon Valley. Its University Campus will provide the residents with the best education. Serviced Apartments are also provided in District to facilitate people who want to live near their offices.
Mosque
Lagoon
Shopping Mall
Business Park
IT University
Corporate Offices
Serviced Apartments
Hotel/Service Apartments
20. Overseas Prime
One of the promising blocks of Capital Smart City is the Overseas Prime Block. The block is exclusively for overseas Pakistani but with more advanced and luxurious facilities and amenities.
Overseas Prime Block Residential Plots:
The residential plots of the following sizes are up for sale in this block:
7 Marla
10 Marla
12 Marla
1 Kanal
2 Kanal
4 Kanal
Overseas Prime Block Commercial Plots:
The commercial plots of the following sizes are up for sale in this block:
21. Overseas Prime II
Overseas Prime II offers luxurious yet affordable residential plots.
The residential plots of the following sizes are up for sale:
5 Marla
7 Marla
10 Marla
12 Marla
1 Kanal
2 Kanal
22. CSCI Harmony Park Block
As the smart capital city is an expensive project, so many people are unable to buy their plots or dream home. Due to this, CSCI came up with a new block recently named the Harmony Park Block. This is to cater to all low-income property seekers.
All the facilities and standard of this block is likely to the rest of society. But the prices of the unit are lower than other blocks. This has small area residential projects of about 3.5 Marla plots along with one and three-bedroom Awami villa apartments (The Villas) that cover the area of 3.5 Marla and 5, Marla. All these residential plots come with enough flexible payment plans of almost 3.5 years.
As it is a newly launched block, its exact location is yet to be mentioned on the master map of the smart capital city. However, the available information shows that it is near or around the executive block. So, you can directly reach me here through Chakri Road.
Smart Villas:
Capital Smart City has joined hands with Trivelles International, guiding property development and investment in the UK, to establish Pakistan's first-ever Smart Villas in their housing project by the name of "Trivelles Lake Boulevard". The contemporary development in these villas will feature the best smart, upscale, and revolutionary elements to deliver a residency experience for its residents ahead of time.
Location of Smart Villas:
The luxury villas in the Trivelles Lake Boulevard are strategically positioned between Crystal Lake and the 18-hole Golf Course in the Overseas Block of Capital Smart City Islamabad. These Villas will be honored with the finest sights of Society. They will hold an advantage over the remaining sites of the Society in times of attributes and location.
Special Features and Facilities:
These smart Villas are organized by features in three categories classic, premium, and exclusive each category presents smart features and smart technology to its residents. Classic homes have beautiful features such as traditional tiles, windows, cupboards, doors, a furnished kitchen, and much more per taste. Suppose you want to make your villa according to your own choice. In that case, you can go for a bonus villa because premium invites you to adorn your home on your terms. If you wish for an exceptional splendid lifestyle, then you have another choice to go for an exclusive villa. These villas are smart in a true sense, your home is connected to your cell phone, and you can also track traffic on roads and parking areas.
Following are some of the smart features of the villas:
Smart switches
Temperature and humidity sensor
Automated door lock
Gas sensor
Smart doors and windows
Magic box
Remote access via mobile phones
Smart motion sensors
CCTV outdoor & indoor cameras
Types of Villas:
Two main sizes are offered in Smart villas, 5 Marla and 10 Marla. Each size offers two category villas in terms of accommodation and interior.
Contemporary Villas
Mediterranean Villas
Georgian Villas
The following are the type of 5 Marla luxury villas on Lake Boulevard.
Abbey villas (5marla-3 bedrooms)
Strand villas (5marla-4 bedrooms)
Following are the type of 10 Marla luxury villas in Lake Boulevard
Harley villas (10marla-4bedrooms)
Regent villas (10marla-5bedrooms)
revolutionary elements to deliver a residency experience for its residents ahead of time.
Additional Services
CCTV OUTDOOR CAMERAS
The property is covered through front and rear external CCTV cameras. You can monitor outside your property on monitors installed inside the living rooms and on your smartphone at any time and anywhere in the world.
CCTV INDOOR CAMERAS
All living rooms, stair lobbies, and drawing rooms are covered through indoor CCTV cameras. You can monitor your house on your smartphone, 24/7, anywhere in the world.
REMOTE ACCESS
Control your electrical home appliances through your smartphone/tablet/computer.
SMART MOTION SENSORS
Motion sensors cover your house. When activated, it provides a local alarm and SMS and email alerts on your smartphone. It acts as a warning system against any intruder.
AUTOMATED DOOR LOCK
Via your smartphone app, remotely lock/unlock your house's main door. Give access to your guests remotely. Gas sensor – All kitchen areas are fitted with a gas leakage sensor to warn you of accidental gas openings and safeguard against the potential loss of life and property. Your smartphone will warn you along with a local alarm.
MAGIC BOX
It's time to eliminate all kinds of controllers in your house.
SMART SWITCH
Control the lights and appliances through your smartphone.
TEMPERATURE & HUMIDITY SENSOR
Real-time detection and viewing on the phone link with the air conditioner to adjust the temperature automatically.
SMART DOOR AND WINDOWS
All ground floor windows and doors are fitted with sensors. When activated, you will receive SMS and email alerts on your smartphone and a local alarm. Acts as a warning system against any intruder/break-in.
Marla Residential Plot at the Harmony Park- Capital Smart City:
As per updated events at Capital Smart City, a new block of 3.5 Marla Residential Plots has been launched at the most affordable rates. It provides equal opportunity for investors who wish to invest in the futuristic housing project.
This initiative taken by Capital Smart City is to give the potential buyers a chance to become a part of Capital Smart City, who earlier were unable to invest due to the higher cost of properties offered.
These 3.5 plots (dimensions 20 X 40), 90 sq. ft., are strategically placed at the Harmony Park block" next to the Executive Block of Capital Smart City Islamabad.
This newly carved out Harmony Park will exhibit the same facilities and development standards as the rest of the society. Still, the property prices and sizes offered are comparatively lower.
Capital Smart City Islamabad Presents the Villas Apartments
Capital Smart City Islamabad has launched the first of its kind, The Villa Apartments, with a vision to introduce a futuristic and integrated into its Harmony Park Block.
These Villa Apartments are not just cost-effective but are also a unique opportunity for you to become a part of this revolutionary housing project and experience luxurious living.
Capital Smart City has pooled resources, expertise, and vast experience to deliver these innovative residential options, namely "The Villa Apartments." These housing units are a once-in-a-lifetime chance for you to become a part of a true urban lifestyle at the most affordable prices.
Location of the Villa Apartments
The apartments are situated at The Harmony Park at Capital Smart City, a beautiful yet affordable living block dedicated to the Villa apartments and 3.5 Marla residential options.
The harmony block is expected to be beside the executive block and will enjoy the supremacy of having a prime location and state-of-the-art facilities.
You can find the map of the Harmony Block in the 3.5 Marla residential Plot offered by Capital Smart City at The Harmony Park Block.
Types of Villa Apartments
Capital Smart City Islamabad is introducing two types of villa apartments i.e.
5 Marla One bed Villa Apartment-660 sq. ft.
5 Marla Two bed Villa Apartment-856 sq. ft.
The exterior & structure of the buildings resembles that of Villas hence the name The Villa Apartment. These apartment villas will comprise three floors, i.e., the ground floor, first floor, and 2nd floor. Each building will house two adjacent apartments, so each facility will include six units.
Freij International to make an amusement park in CSC
An MOU has been signed between Freij Entertainment Int. & Capital Smart City on Oct 23rd, 2019, for constructing an amusement park near Capital Smart City Islamabad. Freij Entertainment International is well known for being the world's largest traveling entertainment company that organizes fun carnival rides, funfairs, and skilled games worldwide.
The agreement was signed by Mr. Freij El Zein-CEO of Freij Entertainment International. The top management of CSC to build many of the first amusement parks in Pakistan at the site of Capital Smart City, Islamabad, in collaboration with Future developments holdings and the real estate development company responsible for the master planning of Capital Smart City.
Freij Entertainment International has signed a contract to establish fascinating amusement parks in different cities of Pakistan, including Lahore, Karachi, and Islamabad. Freij Int. is the most efficient and competent in providing world-class entertainment projects with record completion within 2-3 months in over 26 countries.
Mr. Imran Zahid, Chief Commercial Officer of CSC, stated that this is a significant step towards providing much-needed entertainment. It will provide amusement facilities throughout Pakistan and improve the country's monetary growth.
These recreational parks will supply job opportunities and improvements in the lives of people and bring economic resilience to the region. The interest and investments of foreign companies in Pakistan will improve the financial situation of the country as well as will open doors to future investments and business opportunities. This step is highly commendable and will help soften the image of our country, making it more attractive and appealing for tourists and the local population.
Applying for a Plot in Capital Smart City
Member will apply for SOD & PDCS (Statement of Dues & Post-Dated Cheques Statement) from BCD (Building Control Department) on Computer Generated Letter.
Before applying, he has to pay the Possession fee and will attach the Deposit slip along with the application.
BCD will issue SOD & PDCS, and the member will pay accordingly.
Now member will apply on the prescribed application and will attach the following documents: –
MS letter &/or Allotment Certificate (Copies)
CNIC (Copy)
Affidavit
Post-dated Cheques (PDC)
Fee / Charges deposit slips
BCD will process his/her application and get approval.
BCD will approach the applicant to visit and get on-ground Possession and Possession Letter.
Now member is to apply for drawing and permission for construction services.
Member is required to start construction within 6 (Six) Months from the date of handing over possession. Otherwise, He/she has to apply for re-possession.
Booking Plot in Capital Smart City
The following documents are required to proceed:
Registration / Transfer Form
NICOP / CNIC of self & Nominee
Payment Receipts / Pay Order / Draft
2 x photographs
Membership Performance
Signature & Thumb impression form
Procedure
Steps to be followed:
Selection of Property Size
All personal information is filled correctly
Data entry of the nominee
Entry of Payments
Signature
Verifying Property in Capital Smart City
The following documents are required to proceed with the verification of a property:
Copy of Allocation / Membership letter / Allotment certificate / Allotment letter / Transfer letter
Copy of computerized National Identity Card
Copy of computerized National Identity Card of Authority holder (If authorized by the owner)
Originally paid slips of the verification fee
Copy of Property Dealer's Registration Card (if applied through Property dealer)
Procedure
Follow the below steps to proceed with verification:
Submit verification application along with documents as mentioned above at the Customer Support Centre
The owner / Authority holder will collect verified documents from the Customer Support Centre on the date provided
Timeline of the Development of Capital Smart City
CSC will require approx. Five years to complete infrastructure / horizontal development. Few mosques, primary schools, clinics, and grocery shops will also be available within three years for people starting their houses after possession. However, standing on our commitments of delivering before time, phase-wise possession of the property commenced in the last quarter of 2020.
Capital Smart City Islamabad development is undergoing a breakneck pace. The site's development work has been progressing remarkably over the past couple of months.
For now, the initial stage of work is already completed. Moreover, leveling of the ground is already done. More than 400 heavy machinery works day and night to complete the job before the deadline. Furthermore, the following is a glimpse of major developmental work accomplished till now.
Web of Roads: To make traveling on the site convenient, road construction is prioritized. Presently, more than 300 feet long, Main Boulevard is in its final stage.
4 Operational Tube-wells:4 functional tube wells indicate the water reservoir at the site. In addition, it also caters to the water needs in the area as well.
Harradine Golf: This 18-hole golf course will become the 1stever signature Golf Course in Pakistan. Capital Golf Club Features Golf Academy, a driving course, and a practice putting green. Moreover, in Pakistan, golf is not much talked about. Hence this will be a golden opportunity for Golf Lovers in Pakistan. Furthermore, the construction of work is likely to complete at the start of 2020.
Movenpick- Hotel & Resorts: An agreement signed between Mövenpick and Future Development Holdings for establishing Mövenpick Hotel and Residence in Capital Smart City Islamabad. It will offer 250 Hotel rooms and more than 150 serviced apartments. Further, it features four dining halls, meeting venues, and advanced fitness centers. 2 swimming pools are already planned.
Friej Entertainment: the big international firm signed an MOU to bring International Standard Park here.
Trivelles International: An international firm has signed a contract to build Smart Houses.
Rope Bridge Inauguration: The Rope Bridge over River Sil between the executive and the overseas block is already functional.
Recent Updates
In addition, up to the recent updates, the following are some of the salient developments made so far
Operating Batching plot that provides one cubic meter material developed.
Pre-Cast Factory for onsite production of tuff tile, tuff stones, and tuff pavers.
Establish a Water filtration plant on Chakri Road providing 2000 gallons of water/hr.
Developed Offices Complex including marketing office, consultation office, and engineering office.
The overseas block has already started mosques, schools, and overhead tanks.
Final Verdict
It is a fact that most of the elements of the housing scheme are lovely and stunning. It is a fundamental investment that will flourish for sure. Habib Rafiq is a reliable name in the Real Estate industry. You may admit it when you will invest in the scheme. They sold out plenty of the plots. You need to book yours as soon as possible. Capital smart city Islamabad reviews show that it is a profitable idea. It will lead the investment to the heights of development as it is an ideal housing scheme.